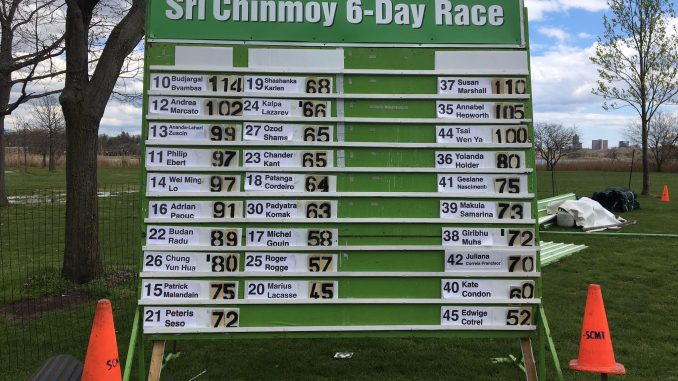 The Sri Chinmoy 6 Day Race 2022 got underway yesterday at noon local time. Conditions were typical for this time of year, cold, wet and windy. Official results have just been posted and this is what the scoreboard looked like an hour or so into Day 2.
Budjargal Byambaa (MGL) led at the end of Day 1 with 102 miles ahead of Andrea Marcato (ITA) who ran 90 miles and third was Phil Ebert (USA) with 87 miles. 3100 mile race specialist Ananda-Lahari Zuscin (SVK) was in fourth place also on 87 miles with Lo Wei Ming (TWN) on 86 miles.
In the women's race Susan Marshall (NZL) reached 104 miles  managing better in the cold and wet than Annabel Hepworth (AUS) who ended the day just five miles adrift of Susan with 99 miles and third was Tsai Wen Ya (TWN) on 92 miles. Yolanda Holder (USA) was in fourth with 75 miles.
Daily updates on the race website: us.srichinmoyraces.org/events/6-10-day-race
Utpals daily videos on Vimeo: https://vimeo.com/user15157110
Utpals daily stories and photos on Perfection-Journey