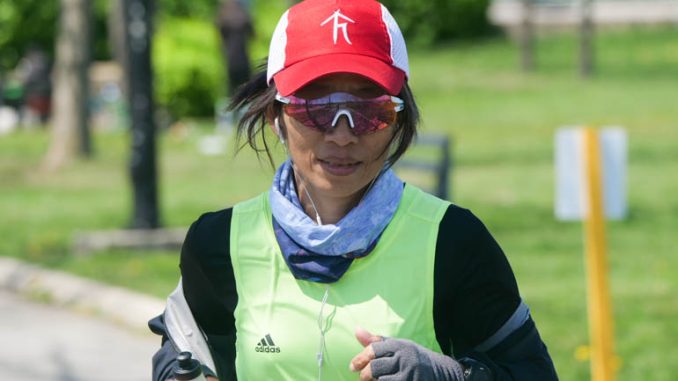 After a wet start to the Sri Chinmoy 6 Day Race 2022 the conditions have dried up but continue to be cold and windy.
The women's race is a battle between the two antipodeans, Annabel Hepworth (AUS) had a tiny cushion over Susan Marshall (NZL) at the end of the third day who are slowly edging away from Tsai Wen Ya (TWN) but everyday brings something new and who know what will happen on day 4. Tsai had leg problems on the third day and she is neck and neck with Yolanda Holder (USA). Makula Samarina (UKR) and Gesiane Nascimento (BRA) are tied for fith spot.
In the men's race there are four 3100 runners in the top seven and leading the 6 day is Budjargal Byambaa (MGL) on 276 miles who has forged a lead over Andrea Marcato (ITA). Phil Ebert (USA) is not far behind in third while Adrian Papuc is looking over Phil's shoulder, just 3 miles behind. Also tying for fifth place are Lo Wei Ming (TWN) and Budan Radu (SUI) on 211 miles.
Results are posted on the website daily in the afternoon local time.
Utpal Marshall visits the race every day and posts video clips  and chats with the runners, crew and organisers. Checkout the links below.
| | | | |
| --- | --- | --- | --- |
| Pos | Name | Ctry | Time |
| Women | | | |
| 1 | Annabel Hepworth | AUS | 236 |
| 2 | Susan Marshal | NZL | 230 |
| 3 | Tsai Wen Ya | TWN | 215 |
| 4 | Yolanda Holder | USA | 214 |
| 5 | Makula Samarina | UKR | 183 |
| 6 | Gesiane Nascimento | BRA | 183 |
| Men | | | |
| 1 | Budjargal Byambaa | MGL | 276 |
| 2 | Andrea Marcato | ITA | 242 |
| 3 | Philip Ebert | USA | 229 |
| 4 | Adrian Papuc | ROU | 226 |
| 5 | Lo Wei Ming | TWN | 211 |
| 6 | Budan Radu | SUI | 211 |
Daily updates on the race website: us.srichinmoyraces.org/events/6-10-day-race
Utpals daily videos on Vimeo: https://vimeo.com/user15157110
Utpals daily stories and photos on Perfection-Journey