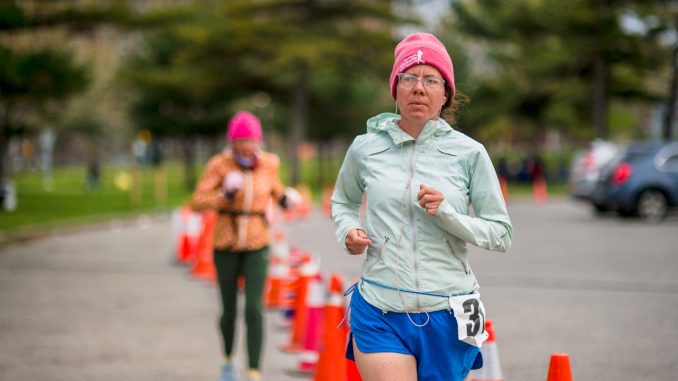 The Sri Chinmoy 6 Day Race 2022 finished today 12:00 local time in New York. In a dramatic final 12 hours Susan Marshall edged past Annabel Hepworth to record her second 6 day win and a personal best by 55km and third place overall. Tsai Wen Ya (TWN) took third place in her first 6 day with 619 km and Yolanda Holder (USA) was fourth with 565
In the men's race Budjargal Byambaa (MGL) maintained his dominance for his 6th 6 day win with 808 km, the best performance at this modality this year so far.
3100 runner Andrea Marcato (ITA) averaged 74 miles a day after the first 24 hours where he ran 90 miles the first day.
Adrian Papuc (ROU) in his second 6 day ran his best performance to take third place with Lo Wei Ming, another 3100 mile runner finishing fourth.
| | | | | |
| --- | --- | --- | --- | --- |
| Pos | Name | Ctry | Miles | Km |
| Women | | | | |
| 1 | Susan Marshal | NZL | 442.3 | 711.8 |
| 2 | Annabel Hepworth | AUS | 426.8 | 686.8 |
| 3 | Tsai Wen Ya | TWN | 385.2 | 619.9 |
| 4 | Yolanda Holder | USA | 351.3 | 565.3 |
| 5 | Makula Samarina | UKR | 342.6 | 551.3 |
| | | | | |
| Men | | | | |
| 1 | Budjargal Byambaa | MGL | 502.3 | 808.3 |
| 2 | Andrea Marcato | ITA | 463.6 | 746 |
| 3 | Adrian Papuc | ROU | 411.3 | 661.9 |
| 4 | Lo Wei Ming | TWN | 406.5 | 654.1 |
| 5 | Budan Radu | SUI | 398.7 | 641.6 |
| | | | | |
Daily updates on the race website: us.srichinmoyraces.org/events/6-10-day-race
Utpals daily videos on Vimeo: https://vimeo.com/user15157110
Utpals daily stories and photos on Perfection-Journey