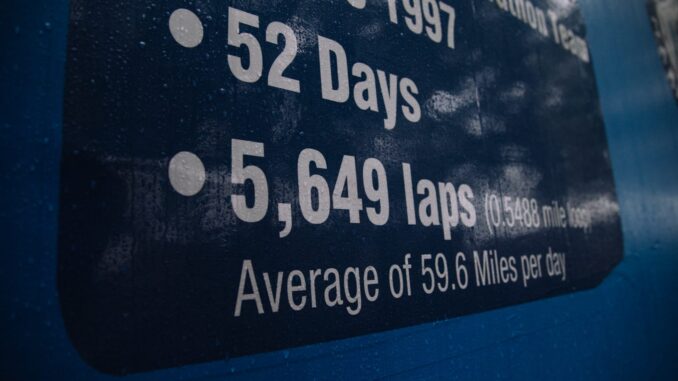 Rupantars morning brief at the Sri Chinmoy Self-Transcendence 3100 Mile Race said the forecast was rain all day today and it was tipping down at just before 6 am. Kobi still hasnt returned and we hope for a speedy recovery. Nirbhasa's name has appeared on the board with Rupantar saying he would be back tomorrow, day 4. That's a bit of a handicap but should still be enough time for him to finish.
Live webcams show currently the rain has stopped and it looks like Gary Corbitt is visiting the race though its hard to tell for sure. Gary has been a regular visitor to the race as was his father, Ted, a friend of Sri Chinmoy's and who would make his way to the race from the subway several times throughout each race and quietly sit by the fence watching the runners as they passed.
Lo Wei Ming and Andrea Marcato are gradually pulling away from Vasu and Askprihanal. Stephen Redfern looks good along with the usual suspects and the women are looking strong too.
Miles at start of Day 3
| | | | |
| --- | --- | --- | --- |
| Pos | Name | Ctry | Miles |
| 1 | Lo Wei Ming | TWN | 164 |
| 2 | Andrea Marcato | ITA | 162 |
| 3 | Vasu Duzhiy | RUS | 152 |
| 4 | Ashprihanal Aalto | FIN | 143 |
| 5 | Stephen Redfern | AUS | 138 |
| 6 | Ananda Lahari | SLO | 136 |
| 8 | Stutisheel Lebedyev | UKR | 131 |
| 9 | Nina Huang Lan Yang | TWN | 131 |
| 10 | Kaneenika Janacova | SLO | 128 |
| 7 | Susan Marshal1 | NZL | 125 |
| 11 | Kobi Oren | ISR | 29 |
| | | | |
Race website: 3100.srichinmoyraces.org
Instagram: @scmtny
Utpals previous videos on Perfection Journey