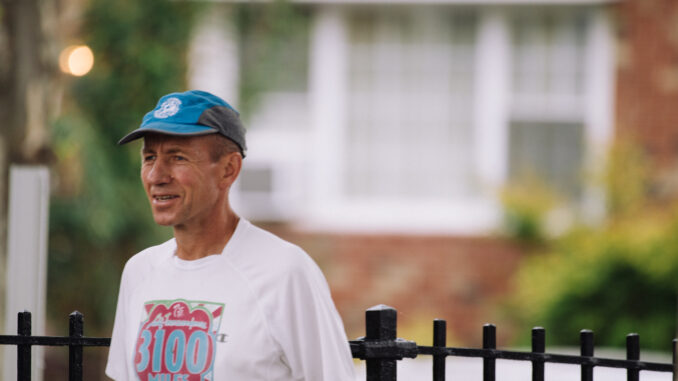 The Self-Transcendence 3100 Mile Race – Day 5 scoreboard shows Andrea Marcato (ITA) edging into the lead with a 74 mile day ahead of Lo Wei Ming (TWN) with 304.Nina Lan Yang continues to lead the women. Most of the team hittting 60 or thereabouts with Kaneenika and Stutisheel just dropping a few miles.
Nirbhasa has started with 69 miles on his first day and needing an average of 115 laps a day to reach the goal.
There's no official announcement yet but word is that Kobi has withdrawn. Runners getting sick immediately before the start of the race has, to my knowledge, never happened before. If this is indeed true we offer our condolences to Kobi who must be very disappointed.
| | | | | |
| --- | --- | --- | --- | --- |
| Pos | Name | Ctry | Miles | |
| 1 | Andrea Marcato | ITA | 309 | |
| 2 | Lo Wei Ming | TWN | 304 | |
| 3 | Vasu Duzhiy | RUS | 284 | |
| 4 | Ashprihanal Aalto | FIN | 274 | |
| 5 | Stephen Redfern | AUS | 270 | |
| 6 | Ananda Lahari | SLO | 263 | |
| 7 | Nina Huang Lan Yang | TWN | 252 | |
| 8 | Susan Marshall | AUS | 247 | |
| 9 | Kaneenika Janacova | SLO | 238 | |
| 10 | Stutisheel Lebedyev | UKR | 235 | |
| 11 | Nirbhasa Magee | IRE | 69 | |
| | | | | |
Race website: 3100.srichinmoyraces.org
Instagram: @scmtnySCMT on Vimeo 
Utpals previous videos on Perfection Journey
Alakanandas race photos