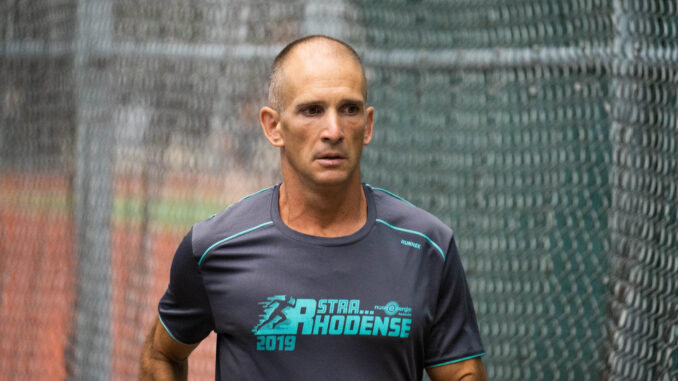 The Sri Chinmoy Self-Transcendence 3100 mile race is the world's longest certified footrace that takes place on a half mile loop in Jamaica, Queens in New York. The race started August 30th and finishes October 20th which gives the runners 52 days to complete the distance with an average of just under 60 miles a day.
Founded in 1996 as a 2700 mile race it was extended in 1997 to 3100 miles and this is now the 27th edition of the event.
Day 14, saw Andrea Marcato (ITA) reach the 1000 mile mark in the Sri Chinmoy Self-Transcendence 3100 mile race, currently on 1069.4 miles, 1722.2 km, averaging over 74 miles a day. Second placed women's leader, Wen-Ya Tsai (TPE) reached the 1000 mile mark on Day 15.
Posted on the 3100 mile race website:
Day 15, September 14, 2023
"Wen-Ya Tsai, 53, from North District Taichung City, Taiwan (ROC), became the first Taiwan lady to reach 1000 miles in a race, reaching the distance in 14days+08:08:08. She is currently in second place overall, and has become a new force in multiday running, not only in Taiwan, but also in Asia, as well as in women over 50 years of age. Her 1000 Mile places her in the fastest 10 women who ever passed the kilo distance in and on a road course. Her finish for 1,000 miles was the seventh best for the all-time female athletes".
Day 16 saw Wei Ming Lo reach 1000 miles.
Current distances (miles)
Andrea Marcato (ITA) 1171
Wen-Ya Tsai (TPE) 1104
Wei Ming Lo (TPE) 1016
Vasu Duzhiy (RUS) 988
Nina Huang-Lan Yang (TPE) 949
Mahasatya Janczak (POL) 948
Harita Davies (NZL) 948
Jason Lester (USA) 910
Kaneenika Janakova (SVK) 915
Milan Javornicky (CZR) 909
Adrian Papuc (ROU) 858
Stutisheel Lebedev (UKR) 819
Ananda-Lahari Zuscin (SVK) 787
Susan Marshall (NZL) 777
As well as there being live webcams throughout the course of the day and daily cumulative results, there is now a live tab which shows the actual current mileage of the runners.
Links
Race website: 3100 Mile race
Race videos: Sri Chinmoy Videos
Race Photos: Sri Chinmog Ultra Photos