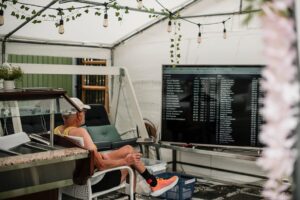 The Viadal 6 Day Race 2023 is underway in Sweden and started on Sunday 13th August.  The event takes place near Förslöv, Southwest Sweden on a 675m gravel track.
Earlier today Bo Pelander (SWE) set a new 72 hour World M80 age group record of 291,293 km (to be verified).
At 3 days 7.5 hours Leonora Johnson (SWE) and Øyunn Bygstad (NOR) lead with 365 km and third woman is Mette Birk Jensen (DEN) with 345 km. The men's race is led by Jonatan Nordebo (SWE) with 400 km, second is Carsten Friis (DEN) with 393 km and Dan Svensson (SWE) leads the mid-pack with 353 km.
Daniel Westergren posted some links about how to follow the event.