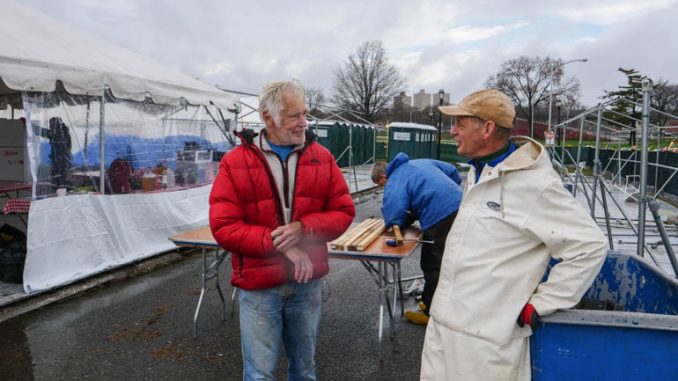 The Sri Chinmoy Ten and Six Day Races 2018 began today at noon with the 10 day race. The  6 day race starts Saturday, April 21, 2018 at 12:00 noon, EDT.
There's been no news yet from Flushing Meadows Park though Don Winkley, Fred Davis and Ashprihanal Aalto have been  seen on site with Ashprihanal being the race favourite. Budjargal Byuambaa from Mongolia and Ed Ettinghausen from the USA will surely be making their presence felt on the scoreboard for the men.
In the womens event  Susan Marshall from New Zealand who won the 6 day in 2017 with 408 miles is one of the favourites to take the womens title along with former winner Nataliya Hlushchuk from the Ukraine though in the 2017 10 day event Vinati Docziova finished just 9 miles behind Nataliya putting in a 74 mile final day.
The weather at this time of year in New York is often changeable and in the last few days there's been heavy rain on the course.
Links
Race website: Sri Chinmoy Ten and Six Day Races
Utpal Marshalls Daily Race blog: Perfection-Journey
6 and 10 Day Races 2017: the full report from Sahishnu