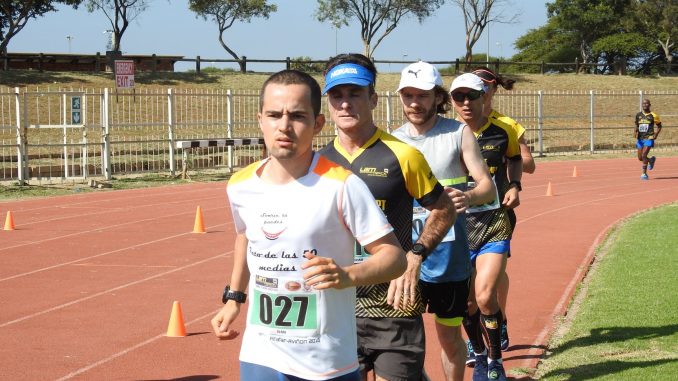 Pietersburg Road Runners 24 Hour & 100 Mile Race 2018 took place over the weekend with 100 mile world record holder Oleg Kharitonov still in business with a new 100 mile track (50+) age group World record. The event was a remarkable success with correspondent Stefan Roodt posting on Facebook that 17 athletes set or broke 57 records during the event
Ivan Penalba Lopez (ESP) won the 24 hour race with a new Spanish track record of 249.324 km. Dmitry Prokhorov was second with 191.038 km and third was Hilton Murray with 176.525 km.
In the women's event, Cornel Metcalfe took first spot with 174 km setting three records at 6 hours, 50 km and 50 miles. Second was Lorraine Boshoff Daleen with 168.847 km setting three records at 50m/km and 100 km. Daleen Cilliers was first to the 100 mile mark for the women, 5th overall and earned a third place in the 24 hour for her efforts.
| | | |
| --- | --- | --- |
| Name | Age | 100 m splits |
| | | |
| Oleg Kharitonov | M50 | 13.27.27 |
| Ivan Penalba Lopez | M23 | 14.30.35 |
| Lucky Maahlo | M35 | 15.20.21 |
| Dmitry Prokhorov | M23 | 18.47.00 |
| Daleen Cilliers | F35 | 19.18.15 |
| Cornel Metcalfe | F40 | 19.44.24 |
| Hilton Murray | M50 | 19.56.19 |
| Gavin Pansegrouw | M40 | 20.14.11 |
| Lorainne Boshoff | F45 | 20.59.06 |
| Justin Sher | M35 | 21.42.02 |
| Tobie Reyneke | M45 | 23.04.21 |
| Ric Marini | M60 | 23.12.40 |
| Gerald Pavel | M45 | 23.26.16 |
24 Hour Results
| | | | | | | |
| --- | --- | --- | --- | --- | --- | --- |
| Rank | Surname | First Name | Gender | Nat. | Performance | Perf. in miles |
| 1 | Penalba Lopez | Ivan | M | ESP | 249.324 | 154.923 |
| 2 | Prokhorov | Dmitry | M | Individual | 191.038 | 118.706 |
| 3 | Murray | Hilton | M | RSA | 176.525 | 109.688 |
| 4 | Metcalfe | Cornel | W | RSA | 174.000 | 108.119 |
| 5 | Pansegrouw | Gavin | M | RSA | 169.072 | 105.057 |
| 6 | Boshoff | Lorraine | W | RSA | 168.847 | 104.917 |
| 7 | Reyneke | Tobie | M | RSA | 166.547 | 103.488 |
| 8 | Marini | Ric | M | RSA | 164.264 | 102.069 |
| 9 | Maahlo | Lucky | M | RSA | 161.600 | 100.414 |
| 10 | Cilliers | Daleen | W | RSA | 161.600 | 100.414 |
| 11 | Kharitonov | Oleg | M | Individual | 161.200 | 100.165 |
| 12 | Sher | Justin | M | RSA | 161.200 | 100.165 |
| 13 | Pavel | Gerald | M | RSA | 161.148 | 100.133 |
| 14 | Stones | Tim | M | GBR | 157.089 | 97.610 |
| 15 | Wright | Eric Frank | M | RSA | 143.704 | 89.294 |
| 16 | Nonyana | Lucas | M | RSA | 134.400 | 83.512 |
| 17 | Warriker | Charmaine | W | RSA | 133.830 | 83.158 |
| 18 | Potzee | Edward | M | RSA | 133.321 | 82.842 |
| 19 | Boesenberg | Martie | W | RSA | 128.687 | 79.962 |
| 20 | Mudau | Jane | W | RSA | 111.406 | 69.224 |
| 21 | Muthubi | Peter | M | RSA | 110.400 | 68.599 |
| 22 | Potgieter | Martinique | W | RSA | 100.800 | 62.634 |
| 23 | van der Merwe | Johan | M | RSA | 100.000 | 62.137 |
| 24 | Pretorius | Pieter | M | RSA | 98.143 | 60.983 |
| 25 | Delainy | Melanie | W | RSA | 94.800 | 58.906 |
| 26 | Cilliers | Ebarnie | M | RSA | 93.865 | 58.325 |
| 27 | Malan | Louis | M | RSA | 92.652 | 57.571 |
| 28 | Msane | Sifiso Max | M | RSA | 89.296 | 55.486 |
| 29 | Munzhelele | Timothy | M | RSA | 56.400 | 35.045 |
| 30 | Malatji | Calvin | M | RSA | 55.600 | 34.548 |
| 31 | Netshitenzhe | Bethuel | M | RSA | 55.200 | 34.300 |
| 32 | Naude | Fanie | M | RSA | 53.600 | 33.305 |
| 33 | van Graan | Johan | M | RSA | 46.517 | 28.904 |
| 34 | Herceg | Steven | M | RSA | 46.517 | 28.904 |
| 35 | Photo | Rufus | M | RSA | 45.200 | 28.086 |
Links
Pietersburg 24 hour and 100 mile race results
Facebook: South Africa Ultrarunning group
List of records set during the event