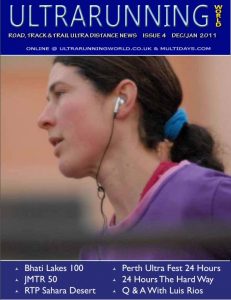 The latest issue of Ultrarunning World has just been published just in time to legitimately call it a December issue. Featuring stories and a few write-ups of recent races in the US, India, Scotland and the Sahara Desert, the magazine lives up to its ideal of being an international resource.
A profile of William Sichel, some questions and answers with Luis Rios and an ultra calendar make it worth a browse, especially as the online version is free.
If you would like to contribute to the magazine please email me, Abichal,  at mail@multidays.com or send material via the submit a report form.
Visit the Downloads page on Ultrarunning World.co.uk for links to the free download and to Magcloud.