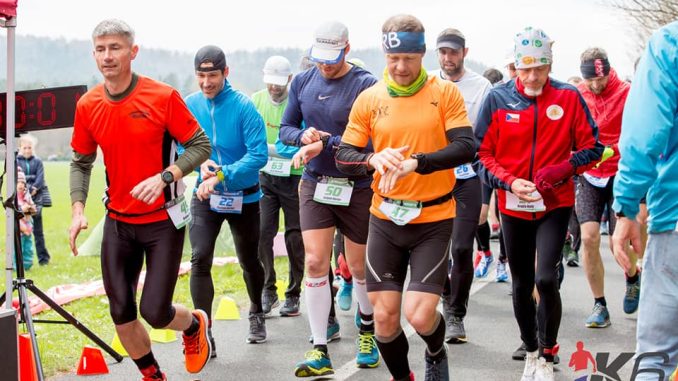 The K6 – 6 Day Race 2022 started Saturday 23rd of April along with the 24 hour and the 48 hour.
The race is currently just into Day 3 and Vir Štafeta Kill (CZE) leads with 482 km and Edda Bauer (GER) leads the women.
The 48 hour was won by Michal ?in?iala with (CZE) 296,816 with Bettina Esemann (GER) with 162,678km.
The women's 24 hour race was won outright by Lenka Barochová (CZE) and joint second was Vítek Slupský (CZE) and Miroslav Štefl (CZE).
Top Positions at 3 days
| | | | |
| --- | --- | --- | --- |
| Pos | Name | Ctry | Km |
| Women | 6 Day | | |
| 1 | Edda Bauer | GER | 234,028 |
| 2 | Sara Kortyka | GER | 196,926 |
| 3 | | | |
| | | | |
| Men | 6 Day | | |
| 1 | Vir Štafeta Kill | CZE | 482,326 |
| 2 | Daniel Brázdil | CZE | 339,626 |
| 3 | Zden?k Koblic | CZE | 305,378 |
| | | | |
| Women | 48 Hours | | |
| 1 | Bettina Esemann | GER | 162,678 |
| | | | |
| Men | 48 Hours | | |
| 1 | Michal ?in?iala | CZE | 296,816 |
| 2 | Petr Chytil | CZE | 285,4 |
| 3 | Dušan Fojtík | CZE | 262,568 |
| | | | |
| Women | 24 Hours | | |
| 1 | Lenka Barochová | CZE | 205,488 |
| 2 | Iveta Bodnarová | CZE | 171,24 |
| | | | |
| Men | 24 Hours | | |
| 1 | Vítek Slupský | CZE | 202,634 |
| 2 | Miroslav Štefl | CZE | 202,634 |
| 3 | Dalibor Murá? | CZE | 194,072 |
| | | | |