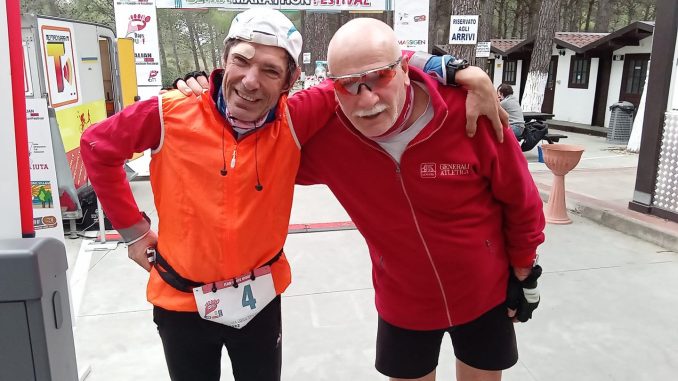 The Italian Ultra Marathon Festival came to a close on Sunday March 20th in Policoro. The fesrival ended with several shorter events and began with the 1000 mile which saw 5 starters. A 1000 miles is a long way and with time constraints the challenge is even more difficult. Denis Orsini (FRA) decided it wasn't going to happen this time and left on the third day. Michal Maipas was the next to withdraw and with just a couple of days to go Petri Perttilä  (FIN) pulled out with injuries and Jean-Louis Vidal (FRA) ran until the last day and the realisation he wasn't going to make it left Daniele Alimonti (ITA) the only finisher in the 1000 mile race.
Annie Paringaux (FRA) and Louis Fouquet (FRA) both finished the 1000km in just over 8 days with Annie the stronger runner setting a F/55 record according to reports.
In the 10 day Roldano Marzorati (ITA) finished well with 1020 km, over a 100k a day which is a great average. 77 year old Edda Bauer (GER) won the women's 10 day coming third overall with an amazing performance.
Gabor Rakonczay (HUN) won the EMU 6 Day in 2021 and made it 2 from 2 with a 109km cushion over second man Fabiano Faorlin (ITA) while Welshman Garfield Jones (GBR) hit the podium for the first time. Mara Guler (ROU) in third place overall had to fend off a powerful finish from Beatrice Bourlon (FRA) to hold on to the win. Richard Brown set a new 48 Hour M 75 world record with 260.762km
Matthew Blackburn (GBR) ran the 10th all-time best British 48 hour distance as he won with a clear lead over second-placed women's winner Mihaela Ivanova Englaro (BUL).
Cristina Petruzzelli was first woman in the 24 hour and men's winner was Artis Zarins.
| | | | | |
| --- | --- | --- | --- | --- |
| Pos | Name | Gen | CTRY | Time/km |
| | 1000 miles | | | |
| 1 | Daniele Alimonti | M | ITA | 15:21:42:00 |
| 2 | Jean-Louis Vidal | M | FRA | DNF |
| | | | | |
| | 1000 km | | | |
| 1 | Annie Paringaux | F | FRA | 8:00:17:27 |
| 2 | Louis Fouquet | M | FRA | 8:06:41:18 |
| | | | | |
| Women | 10 Day | | | |
| 1 | Edda Bauer | F | GER | 661.102 |
| 2 | Mireille Cormier | F | FRA | 481.084 |
| 3 | | F | | |
| Men | 10 day | | | |
| 1 | Roldano Marzorati | M | ITA | 1020.326 |
| 2 | Giuseppe Angelini | M | ITA | 840.482 |
| 3 | Walter Zimmerman | M | GER | 645.045 |
| | | | | |
| Women | 6 Day | | | |
| 1 | Mara Guler | F | ROU | 620.181 |
| 2 | Beatrice Bourlon | F | FRA | 614.465 |
| 3 | Adele Rasicci | F | ITA | 471.521 |
| | | | | |
| Men | 6 Day | | | |
| 1 | Gabor Rakonczay | M | HUN | 740.1 |
| 2 | Fabiano Faorlin | M | ITA | 631.016 |
| 3 | Garfield Jones | M | GBR | 582.625 |
| | | | | |
| Women | 48 Hours | | | |
| 1 | Mihaela Ivanova Englaro | F | BUL | 251.4 |
| 2 | Stine Rex | F | DEN | 202.334 |
| 3 | Luisa Risino | F | ITA | 134.183 |
| | | | | |
| Men | 48 Hours | | | |
| 1 | Matthew Blackburn | M | GBR | 351.65 |
| 2 | Massimo Taliani | M | ITA | 236.958 |
| 3 | Stefano Ciancio | M | ITA | 219.727 |
| | | | | |
| Women | 24 Hours | | | |
| 1 | Cristina Petruzzelli | F | ITA | 114.627 |
| | | | | |
| Men | 24 Hours | | | |
| 1 | Artis Zarins | M | LAT | 185.022 |
| 2 | Morten Klingenberg | M | DEN | 151.48 |
| 3 | Antonio Candido | M | ITA | 146.211 |
| | | | | |
| Women | 100 miles | | | |
| | | | | |
| Men | 100 miles | | | |
| 1 | Antonio Di Manno | M | ITA | 18.19.58 |
| 2 | Simone Leo | M | ITA | 26.16.16 |
| 3 | Giuseppe De Rosa | M | ITA | 26.46.56 |
| | | | | |
Results for all events accessible via www.icron.it/live/
Race website: www.6giornidelpantano.com