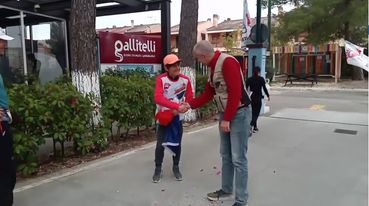 At the end of Day 4 in the Italian Ultra Marathon Festival 6 Day Race, Gabor Rakonczay leads. Below are the current placings.
Annie Paringaux (FRA) has reached 1000km to win the race outright in a provisional time of 8:00:17:27, the RD said it was the third best all-time women's 1000k performance. Louis Fouquet (FRA) in second place has 956.720 at the time of writing.
The 1000 mile race is down to two warriors, Daniele Alimonti (ITA) who has about 100k to go and Jean-Louis Vidal (FRA) has about 170k to go.
Gabor Rakonczay (HUN) continues to dominate the men's 6 day ahead of Fabiano Faorlin (ITA) who has run well to move into second place. and Mara Guler (ROU) continues to lead the women though Beatrice Bourlon (FRA) has worked her way into 5th place overall, just 30k or so behind.
Sharon Gayter (GBR) pulled a quad muscle on the first day but is still moving well considering.
| | | | | |
| --- | --- | --- | --- | --- |
| Pos | Name | Gen | Ctry | Km |
| 1 | Gabor Rakonczay | M | HUN | 521.524 |
| 2 | Fabiano Faorlin | M | ITA | 443.620 |
| 3 | Mara Guler | F | ROU | 439.292 |
| 4 | Richard Brown | M | GBR | 432.8 |
| 5 | Beatrice Bourlon | F | FRA | 414.406 |
| 6 | Jacques Morel | M | FRA | 411.160 |
| 7 | Garfield Jones | M | GBR | 400.340 |
| 8 | Steven Battle | M | GBR | 381.946 |
| 9 | Matteo Nocera | M | ITA | 370.044 |
| 10 | Pat Leysen | M | BEL | 350.568 |
| 11 | Adele Rasicci | F | ITA | 334.338 |
| 12 | Aldo Maranzina | M | ITA | 309.452 |
| 13 | Tommy Swardh | M | SWE | 308.370 |
| 14 | Sharon Gayter | F | GBR | 305.124 |
| 15 | Christer Lejon | M | SWE | 291.058 |
| 16 | Boban Pantovic | M | SRB | 259.680 |
| 17 | Sophie Jenniges | F | BEL | 247.778 |
| 18 | Joe Fejes | M | USA | 234.794 |
| 19 | Diego Pezzetti | M | ITA | 229.384 |
| 20 | Sritong Nurapak | F | THA | 102.790 |
Live results for all events accessible via www.icron.it/live/
Race website: www.6giornidelpantano.com