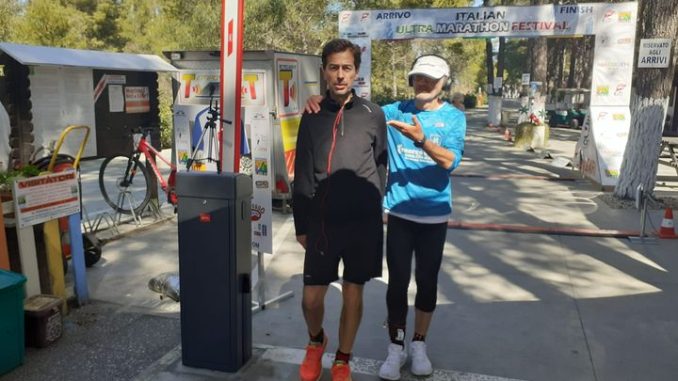 The Italian Ultra Marathon Festival 2022 6 Day race saw Mara Guler (ROU) and Joe Fejes (USA) lead the race in the early stages but Gabor Rakonczay ((HUN) has built a solid lead over Richard Brown (GBR) currently in second, 6 km ahead of Mara.
Daniele Alimonti (ITA) still leads the 1000 mile race but Petri Pertillä (FIN) has had to pull out. Annie Paringaux (FRA) leads the 1000k and Vito Volpe (ITA) has withdrawn from the 10 day which is led by Roldano Marzorati (ITA).
Edit. Joe Fejes has also withdrawn from the 6 day before the end of day 2.
6 day Placings after 47 hours
| | | | | |
| --- | --- | --- | --- | --- |
| Pos | Name | Gen | Ctry | Km |
| 1 | Gabor Rakonczay | M | HUN | 305,124 |
| 2 | Richard Brown | M | GBR | 254,270 |
| 3 | Mara Guler | F | ROU | 248,860 |
| 4 | Joe Fejes | M | USA | 234,794 |
| 5 | Jaques Morel | M | FRA | 231,548 |
| 6 | Beatrice Bourlon | F | FRA | 228,302 |
| 7 | Fabiano Faorlin | M | ITA | 223,974 |
| 8 | Matteo Nocera | M | ITA | 220,728 |
| 9 | Christer Lejon | M | SWE | 214,236 |
| 10 | Garfield Jones | M | GBR | 214,236 |
| 11 | Steven Battle | M | GBR | 204,498 |
| 12 | Sharon Gayter | F | GBR | 186,104 |
| 13 | Aldo Maranzina | M | ITA | 185,022 |
| 14 | Adele Rasicci | F | ITA | 181,776 |
| 15 | Tommy Swardh | M | SWE | 178,530 |
| 16 | Pat Leysen | M | BEL | 172,038 |
| 17 | Sophie Jeniges | F | BEL | 172,038 |
| 18 | Boban Pantovic | M | SRB | 152,562 |
| 19 | Diego Pezzetti | M | ITA | 123,348 |
| 20 | Sritong Nurapak | F | THA | 54,100 |
Live results for all events accessible via www.icron.it/live/
Race website: www.6giornidelpantano.com