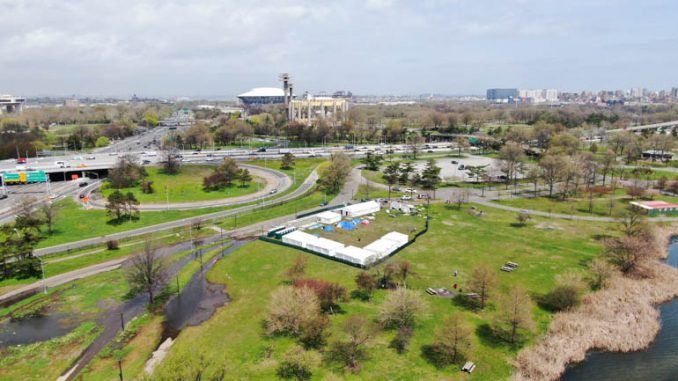 The 24th Self-Transcendence 10 Day Race gets underway today, April 22nd 1
2  noon local time. The race venue is Flushing Meadows Park in Queens, New York and also features the 6 day race which starts April 26th. The course is a flat, paved, 0.8mile (1.287k) loop through the park close to the site of the 1964 Worlds fair.
The 10 day looks to be an exciting race with Budjargal Byambaa (MNG) returning for the third year in a row having won it in 2017 and finishing second in 2018 with 1304 km. Fresh from his victory at the Across The Years 6 day Budjargal has to be favourite for the win. Takasumi Senoo (JPN) doesnt appear to have many recent races listed by the DUV but Takasumi has a great history of running the longest stage races including Run Across America 2004, Deutschlandlauf 2008, Transeurope 2009 and more recently the 2015 Tour de France which he won. Wei Ming Lo (TWN) has a best of 720 km albeit set a few years ago and will no doubt be inspired by the quality of runners around him.
In the women's race Vinati Docziova returns, as do a host of runners, no doubt with an eye on the 1000 km mark as last year she finished third with 930 km. With favourable conditions who knows what can happen. Last years 6 day winner, second overall with 589 km, Petra Kasperova, steps up to the 10 day and will no doubt be a contender for the win.
Joe Fejes makes his debut at the 22nd Self-Transcendence 6 day race in New York after having a few years off the 6 day scene. In 2014 Joe broke the then record set by Stu Mittleman at the 6 Days In The Dome event in Alaska and the event returns in August this year at the Pettit National Ice Center in Milwaukee, Wisconsin. In 2015 Joe ran 975 km in Hungary – a total that only 6 people have surpassed in the modern era. Amongst the contenders there's Katsuhiro Tanaka (JPN) the current Japannese 6 day record holder (814.400 km) and John Geesler (the man who never sleeps). 81 year old Don Winkley returns and his main competion will be 80 year old Christian Mainix (FRA).
In the women's 6 day race Annabel Hepworth (AUS) who was the best in the world in 2018 in the 6 day category also makes her debut in Flushing Meadow Park. Annabel ran 620 km at ATY earlier in January and that's the second best performance this year so far. Susan Marshall (NZL) returns after winning the event in 2017 to make it five women from AUS/NZL to make it possible for a Southern Hemsisphere Sweep. The race starts on Monday.
Race website: us.srichinmoyraces.org