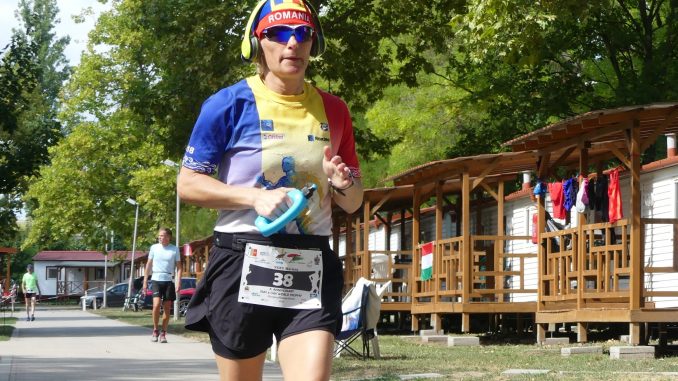 The 1oth EMU 6 Day Race 2021 started on Friday September 3rd at Balatonfured in Hungary. After 75 hours the race is led by Gabor Rakonczay (HUN) with 452 km and women's leader is Mariana Nenu (ROU). The course is a partly shaded 926,82 metre paved loop. 60 starters.
This is Mariana's debut at 6 days and has demonstrated she has capacity with 215 km at the Romanian Ultra Championship  in April and a win with 123.465 km at the 12 hour in Palic in June. Also making her official debut at a 6 day is Galit Birenboim-Navon currently second woman and 5th overall. In third place is Silke Gielen, former winner of the event in 2015 and 2017.
In the men's race current leader Gabor Rakonczay is another debutant amongst the leaders who ran 216km at the Balatonfüredi UltraFutó Fesztivál in 2020. Michael Bohm currently in second ran 672 at the IUMF in 2019. Third place Roldano Marzorati ran 701 km in 2015 at this event.
Jean-Louis Vidal (FRA) is in 9th place with 398km aand 3100 mile race(which starts today) runners Atmavir Petr Spacil (CZR) and Baladev Saraz (SVK) lie in 12 and 17th respectively. Camille Herron pulled out with a groin issue toward the end of Day 1.
In terms of the EMU 6 Day Race World Trophy its looking likely to be mainly between Germany and Hungary and third place between the Czech Republic and France.
| | | | |
| --- | --- | --- | --- |
| Pos | Name | Ctry | Km |
| Women | | | |
| 1 | Mariana Nenu | ROU | 413.922 |
| 2 | Galit Birenboim-Navon | ISR | 393.55 |
| 3 | Silke Gielen | GER | 392.624 |
| | | | |
| Men | | | |
| 1 | Gabor Rakonczay | HUN | 452.814 |
| 2 | Michael Bohm | GER | 412.996 |
| 3 | Ronaldo Marzorati | ITA | 404.662 |
| | | | |
Livestreaming video
Live results
EMU 6 Day on Facebook