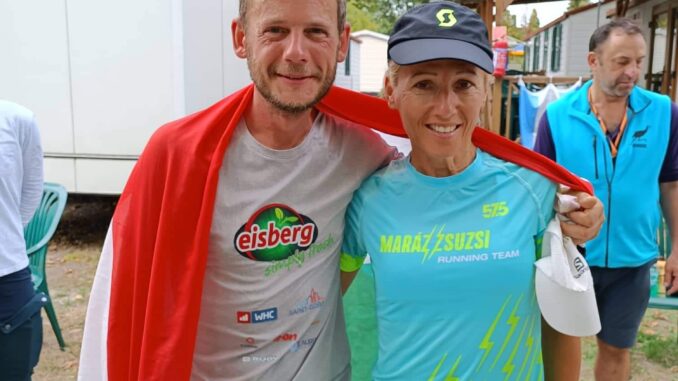 The EMU 6 Day Race Balatonfured Hungary 2022 finished yesterday at noon with Hungarians taking the titles for both and women's races. Gábor Rakonczay made it two in a row after winning last years race with 801 km. This year Gábor added a marathon to his previous best total. Michal Koziarski (POL) took second place with a 60km pb and Pawel Zuk (POL) was third with 759.911.
Zsuzsanna Maraz was women's winner, third overall setting a new age group world record along the way and the best womens 6 day performance in the world this year. Galit Birenboim-Navon (ISR) finished second in her second 6 day race also setting a pb by 114 km. Gabriela Cotugno (ARG) was third with 618.723km.
GBR's Sandra Brown also set a Womens 70 age group record surpassing Helen Kleins record of  600.290 km by completing 610.964 km.
| | | | |
| --- | --- | --- | --- |
| Pos | Name | Ctry | Km |
| Women | | | |
| 1 | Zsuzsanna Maraz | HUN | 760.512 |
| 2 | Galit Birenboim-Navon | ISR | 637.583 |
| 3 | Gabriela Cotugno | ARG | 618.723 |
| | | | |
| Men | | | |
| 1 | Gabor Rakonczay | HUN | 844.108 |
| 2 | Michal Koziarski | POL | 801.264 |
| 3 | Pawel Zuk | POL | 759.911 |
| | | | |