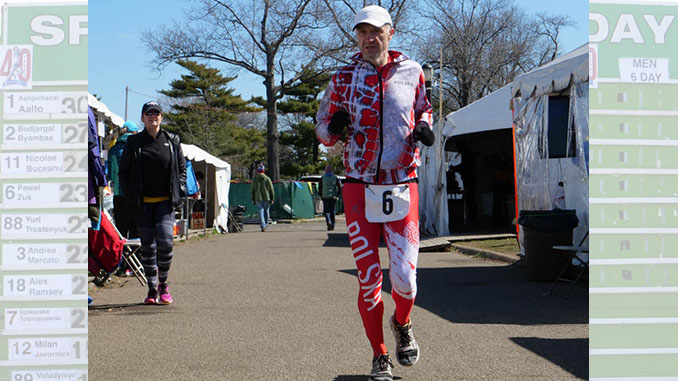 The Sri Chinmoy Ten and Six Day Races 2018 – Day 5 sees some changes on the scoreboard after a settled look about them in the early stages of the race. Ashprihanal has regained the lead after an 86 mile day, seemingly recovered from his earlier problem. Budjargal Byambaa, after his massive 97 mile day has been forced to take it easy with a 53 mile day. Pawel Zuk moves into third.
In the womens race Nataliya Hlushchuck has edged into the lead ahead of Ilvaka while Susan Marshall after having two slower days is in third place.
The Sri Chinmoy 6 day race is led by three time winner John Geesler (USA) on 83 miles from Canadian Roger Martel on 70.4. Multiday veterean Priyavardin Resisecker (AUT), 67.2 miles, has a toe-hold on third place with Mahasatya Janczak (POL) close behind.
In the womens 6 day race Canadian Sylvie Boisvert leads after an impressive first day with 92 miles.  Vera Kalishmanova (RUS) is in second and Makula Samarina from the Ukraine is third with 67.2 miles
| | | | |
| --- | --- | --- | --- |
| Pos | Name | Country | Miles |
| Men | 10 Day Race | | |
| 1 | Ashprihanal Aalto | FIN | 446.4 |
| 2 | Budjargal Byambaa | MON | 431.2 |
| 3 | Pawel Zuk | POL | 391.2 |
| | 33 starters | | |
| Women | 10 Day Race | | |
| 1 | Nataliya Hlushchuk | UKR | 312.8 |
| 2 | Ilvaka Nemcova | CZE | 312 |
| 3 | Susan Marshall | NZL | 304 |
| | 18 starters | | |
| Men | 6 Day Race | | |
| 1 | John Geesler | USA | 83.2 |
| 2 | Roger Martel | CAN | 70.4 |
| 3 | Priyavadin Reisecker | AUT | 67.2 |
| | 11 starters | | |
| Women | 6 Day Race | | |
| 1 | Sylvie Boisvert | CAN | 92.8 |
| 2 | Vera Kalishmanova | RUS | 72.5 |
| 3 | Makula Samarina | UKR | 67.2 |
| | 14 starters | | |
Links
Race website: Sri Chinmoy Ten and Six Day Races
Utpal Marshalls Daily Race video and photo blog, Perfection-Journey: Dive Deep Within
6 and 10 Day Races 2017: the full report from Sahishnu