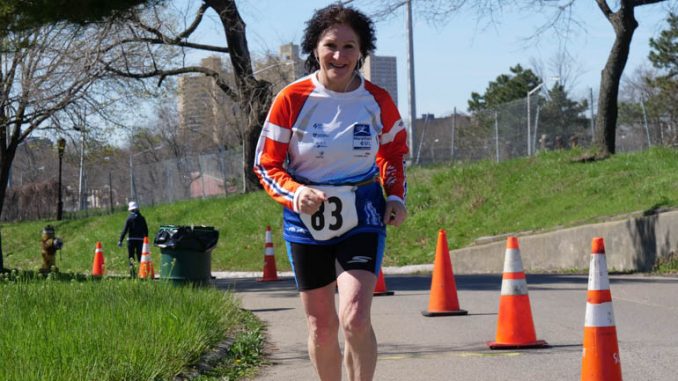 Sri Chinmoy Ten and Six Day Races 2018 – Day 6 has ended and the 10 day runners are well into Day 7. Ashprihanal Aalto has stretched his lead to 33 miles setting a new pb and a new Finnish 6 day record, probably some intermediate distances and age group records too. Budjargal Byambaa had a better day than his previous day but there's no doubt his blisters are a severe hinderance.  Pawel Zuk consolidated his third place with an excellent 76 miles.
In the womens race, Ilvaka Nemcova and Nataliya Hlushchuk are neck and neck at the end of Day 6 on 373.6 miles. Susan Marshall is still hanging in there despite shin splints while Vinati Docziova in 4th place is moving ever closer.
In the women's 6 day  Sylvie Boisvert leads the women after a lower mileage second day (54 miles) and Vera Kalishmanova in second plave cut into Sylvie's lead with a 56.8 mile second day while Czech runner Petra Kasperova moves into third place on the same mileage total as Zuzka Rybkova (CZE) and Makula Samarina (UKR).
Top Results after Day 6
| | | | |
| --- | --- | --- | --- |
| Pos | Name | Country | Miles |
| Men | 10 Day Race | | |
| 1 | Ashprihanal Aalto | FIN | 530.4 |
| 2 | Budjargal Byambaa | MON | 497.6 |
| 3 | Pawel Zuk | POL | 468 |
| | 33 starters | | |
| Women | 10 Day Race | | |
| 1 | Ilvaka Nemcova | CZE | 373.6 |
| 2 | Nataliya Hlushchuk | UKR | 373.6 |
| 3 | Susan Marshall | NZL | 349.6 |
| | 18 starters | | |
| Men | 6 Day Race | | |
| 1 | John Geesler | USA | 155.2 |
| 2 | Mahasatya Janczak | POL | 128 |
| 3 | Priyavadin Reisecker | AUT | 127.2 |
| | 11 starters | | |
| Women | 6 Day Race | | |
| 1 | Sylvie Boisvert | CAN | 147.2 |
| 2 | Vera Kalishmanova | RUS | 129.6 |
| 3 | Petra Kasperova | CZE | 120.8 |
| | 14 starters | | |
Links
Race website: Sri Chinmoy Ten and Six Day Races
Utpal Marshalls Daily Race video and photo blog, Perfection-Journey: April 22 Six and Ten Day Race…Make Progress
6 and 10 Day Races 2017: the full report from Sahishnu