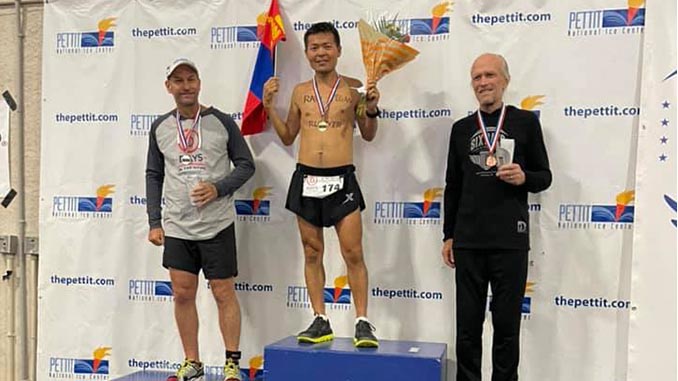 The premier multiday 6 day race this year so far, the 6 Days In The Dome 2021 started on June 20th and finished on June 26th at the Pettit National Ice Center in Milwaukee, Wisconsin. The Pettit Center features a state of the art 443+ meter indoor oval that the runners loop around and before the 6 day began there were two 24 hour races and a 48 hour  event.
The Day 1 24 hour was won by Tor Gudmundsen for the second successive time with 124.5488 miles (200.441km) and first woman was Heather McComb with 101.1270 miles (162.7481km). The Day 2 24 hour saw Alex Ramsey take the overall win with 129.5086 miles (208.4239km). Angie Darbyson also took the overall women's win with 128.4064 miles (206.6501km).
The 48 Hour saw  Olivier Leblond repeat his 20019 success with 219.8891 miles (353.8772km) to win the event. Marisa Lizak finished in second place also with 219.8891 miles (353.8772km). Lisa Devona was third with 213.5515miles (343.6778km), 19 finishers.
The 6 day field, as was the event as a whole, was missing some international competitors though the two that made it had a big impression on the event. Ultrarunner and triathlete Viktoria Brown (CAN) led from the early stages for the first three days but after 36 hours began to suffer asthmatic issues and later a foot injury limited her to setting new national records at 48 and 72 hours when she called it a day.
As Viktoria began to slow Joe Fejes (USA) took on the role of race leader however by hour 80 raw vegan athlete Budjargal Byambaa (MGL) had passed Joe and continued to put space between them finishing the race with a massive 70km pb and a 60 mile lead. Steve Troxel from Jackson, TN in his first 6 day averaged just over 75 miles a day to take the third spot.
Sandra Villines-Burruss took first place with 422 miles in the women's race after coming third behind walker Yolanda Holder in the 2019 Dome event. Yolanda stopped due to a back injury with 32 hours to go on the clock yet still finished in second and 10th overall with 338 miles. Marcia Rasmussen took third place in her third six day race with just over 335 miles (539km).
6 Days In The Dome 2021 top places:
| | | | | |
| --- | --- | --- | --- | --- |
| Pos | Name | Ctry | Miles | Km |
| Men | | | | |
| 1 | Budjargal Byambaa | MGL | 561.7645 | 904.0723 |
| 2 | Joe Fejes | USA | 501.9447 | 807.8016 |
| 3 | Steve Troxel | USA | 452.7691 | 727.7743 |
| | | | | |
| Women | | | | |
| 1 | Sandra Villines-Burruss | USA | 422.1431 | 679.3734 |
| 2 | Yolanda Holder | USA | 338.3758 | 544.5630 |
| 3 | Marcia Rasmussen | USA | 335.0691 | 539.2415 |
| | | | | |
24/48 Hour Race Results
6 Day's In The Dome Race Results
6 Days In The Dome race website: Run6Days.com