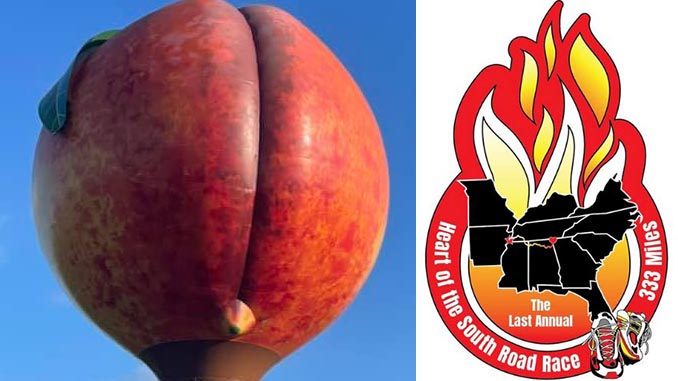 The Last Annual Heart Of The South Road Race 2021 (H.O.T.S.) was a 332 mile non-stop multiday road race from Gaffney, SC to Castle Rock, GA.  The runners assembled on Wednesday morning (Jun 16), parked their vehicles in a hayfield atop Sand Mountain in North Georgia, and boarded tour buses. The only thing they knew about their destination was that it would be between 300 and 350 miles away. Once they arrived, they were able to access maps of the course they would take to get them back to their vehicles. After an overnight stay in a hotel, the field were bused to the start on thursday morning, June 17th with 10 days to get back.
Early leaders were Beverley Anderson-Abbs and James Fleming until Bev dropped around the 48 hour mark with what turned out to be a muscle tear. That left the road ahead clear and a cushion over second placed Jim Winn. Jim was finally caught by Curtis Barton who has written a great report at the link below.
Kimberly Durst's sister posted a lot of entertaining updates on the facebook page and it's interesting how much time some runners spend on their phone and how integral it's become in our lives. Kimberly finished 5th overall a full day ahead of Jessica Hardy who in turn had half a day cushion over Nikki Harvey. 76 starters 46 finishers.
Laz's daily updates can be found on the race website.
Podium placings:
| | | | |
| --- | --- | --- | --- |
| Pos | Name | Ctry | Time |
| Men | | | |
| 1 | James Fleming | | 5:03:13:03 |
| 2 | Curtis Barton | | 5:05:47:40 |
| 3 | Jim Winn | | 5:09:37:59 |
| | | | |
| Women | | | |
| 1 | Kimberly Durst | | 5:19:48:49 |
| 2 | Jessica Hardy | | 6:19:19:19 |
| 3 | Nikki Harvey | | 7:06:52:00 |
| | | | |
Race website: Vacation Without A Car
Tracking Sheet
Facebook
Race report: Curtis Barton
Race report: Kim Drake