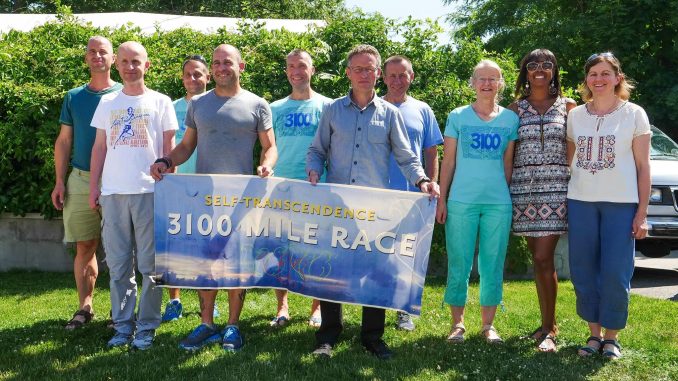 The Self-Transcendence 3100 Mile Race 2018, the worlds longest annual footrace starts on Sunday 17th of June in Queens New York at 6:00 am. The 10 runners including three women have to run an average of 59.60 miles a day to finish within the 52 day time limit. The 18 hour day finishes at midnight when the .584 mile course closes and the runners have a 6 hour break and resume the following morning at 6 am. Throughout the day the runners circle the loop which will finally amount to 5649 laps. Runners are supplied with food and drink and a place to rest and some runners have a crew to attend to their needs to reduce time spent not moving forward toward the 3,100 mile (4,989 km) goal.
Two debutants start this year, Austrian Usika Muckenhummer who has run many 6 and 10 day races in Flushing Meadow and Israel's pioneering Kobi Oren who is the only Israeli to have run a 6 day race male or female.
America's Yolanda Holder returns after a spectacular finish at the 2017 event just inside the cut-off and one of three Austrians in this years race, Surasa Mairer makes her fourth start with last years new rcord holder Slovak Kaneenika Janakova (48 days+14:24:10?) making this her third race.
Six time finisher Vasu Duzhiy from Russia is a former winner of the race finishing top in 2013 and then again in 2017. He is one of only five men to have averaged 70 or more miles per day in the race.
The third Austrian, Smarana Puntigam, makes his ninth start, Sopan Tsekov the Bulgarian record holder sees his 7th start and Ananda Lahari Zuscin from Kosice, Slovakia, makes his 14th appearance.
| | |
| --- | --- |
| Women | |
| Yolanda Holder | USA |
| Kaneenika Janakova | SVK |
| Surasa Mairer | AUT |
| | |
| Men | |
| Vasu Duzhiy | RUS |
| Usika Muckenhummer | AUT |
| Kobi Oren | ISR |
| Smarana Puntigam | AUT |
| William Sichel | SCO |
| Sopan Tsekov | BUL |
| Ananda-Lahari Zuscin | SVK |
Race Links
Race website: Self-Transcendence 3100 Mile Race
Race Charts: Race charts and statistics
Utpal Marshall's Perfection-Journey Day 52 Yolanda's Finish
Utpal Marshall's Perfection-Journey Day 52 Harita's Finish
Yolanda Holder Facebook
Race photos 2017
Sri Chinmoy Ultra race photos
Sri Chinmoy's website: Sri Chinmoy.org
Previous Posts
Self-Transcendence 3100 Mile Race 2017 – Daily Updates – Day 50 – Alan Young
Self-Transcendence 3100 Mile Race 2017 – Daily Updates – Day 1 – Alan Young