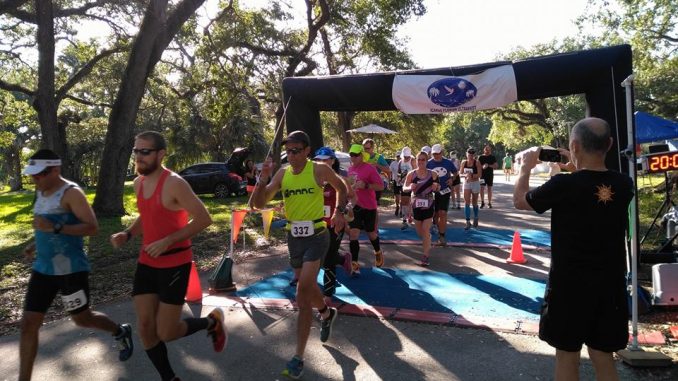 Icarus Florida UltraFest 2017 – Results are available on the race website.
The race has just drawn to a close in Florida and the winners of the 6 day race are Sarah Barnett (AUS) with 541 km for the women and Nicolae Buceanu (ROM) with 658 km for the men.
In the 72 hour Annabel Hepworth was the only woman and covered 325 km and the only man was Mark Prezzemolo who ran 285 km.
In the 48 hour Olivier Leblond set a new American 48 hour record with just over 421 km.
Unofficial results
| | | | |
| --- | --- | --- | --- |
| Pos | Overall | Name | Km |
| Women | | 6 Day | |
| 1 | 7 | Sarah Barnett | 541 |
| 2 | 9 | Danette Taulbee | 353 |
| 3 | 11 | Betty Smith | 300 |
| | | | |
| Men | | | |
| 1 | 1 | Nicolae Buceanu | 658 |
| 2 | 2 | Brad Compton | 621 |
| 3 | 4 | Tom Nasuta | 500 |
| 4 | 5 | Chris Stevens | 490 |
| 5 | 6 | Arun Bhardwaj | 466 |
| 6 | 7 | Adrian Bontiu | 426 |
| 7 | 8 | George Maxwell | 384 |
| 8 | 10 | Don Winkley | 351 |
| | | | |
| Women | | 72 Hour | |
| 1 | 1 | Annabel Hepworth | 325 |
| Men | | | |
| 1 | 2 | Mark Prezzemolo | 285 |
| | | | |
| Women | | 48 Hour | |
| 1 | 2 | Kay Scott | 188 |
| 2 | 3 | Deanna Johnson | 181 |
| 3 | 4 | Jackie Gronwald | 166 |
| | | | |
| Men | | | |
| 1 | 1 | Olivier Leblond | 421 |
| | | | |
| Women | | 24 Hour | |
| 1 | 3 | Cinthia Espinosa | 172 |
| 2 | 5 | Amy Mower | 164 |
| 3 | 11 | Pamela Sanchez | 95 |
| | | | |
| Men | | | |
| 1 | 1 | Andrew Faretta | 183 |
| 2 | 2 | Ruben Barrera | 177 |
| 3 | 4 | Augusto Salles | 171 |
| | | | |
| Women | | 12 Hour | |
| 1 | 1 | Heather King | 101 |
| 2 | 3 | Jessica Rudder | 67 |
| | | | |
| Men | | | |
| 1 | 2 | Brendan Barry | 74 |
| 2 | 4 | Darryl Morrison | 42 |
| 3 | 5 | Brian Cavanagh | 29 |
| | | | |
| | | | |
| | | | |
| | | | |
Links:
Website: www.icarusfloridaultrafest.com
Facebook: www.facebook.com/icarusultra
Live Results:
https://www.mcmtiming.com
http://my6.raceresult.com/85884/