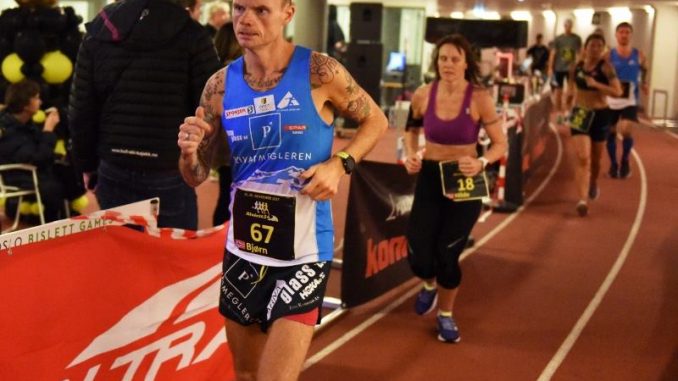 The Bislett 24 Hour Race 2017 concluded earlier today at the indoor venue at Bislett Stadium in Norway. This year the organisation has been handed over to one of the most active ultrarunning clubs in Norway, the Romerike Ultraløperklubb. In recent years the event has become au ultrafest with 48, 12 and 6 hour options but this year has resorted to its previuos formula of 24 hours.
156 starters and 53 runners who surpassed 100 miles demonstrate the quality of the field in this years event won by Bjørn Tore Kronen Taranger with 256.443 km (159.346 miles). Anna Grundahl set a personal best with 231.832 km (144.053 miles) coming third overall.
Scotland's William Sichel finished third in his age group with 176.910 km. Before the event William said "I ran at this venue two years ago when doing the 48 Hour race, which has now been discontinued. I enjoyed the location and found the race to be very well organised and convenient to do. There aren't many indoor races so it's a good opportunity to tackle indoor records."
William is currently persuing his record-setting project called "Journey to 750" in which he is attempting to set 750 running records at World, British and Scottish level, including age-group records. Currently he has set 427 records, including 45 world age-group records and two Guiness World Records.

| | | | |
| --- | --- | --- | --- |
| Pos | Name | Ctry | Time |
| Men | | | |
| 1 | Bjørn Tore Kronen Taranger | NOR | 256.443 |
| 2 | Craig Holgate | GBR | 245.794 |
| 3 | Terje Sandness | SWE | 227.452 |
| | | | |
| Women | | | |
| 1 | Anna Grundahl | SWE | 231.832 |
| 2 | Therese Falk | NOR | 227.400 |
| 3 | Mari Nustad Mauland | NOR | 218.511 |
| | | | |
Links
Race website: www.romerikeultra.no
Bislett 24 hour race results
Facebook: www.facebook.com/Bislett24
William Sichel's website