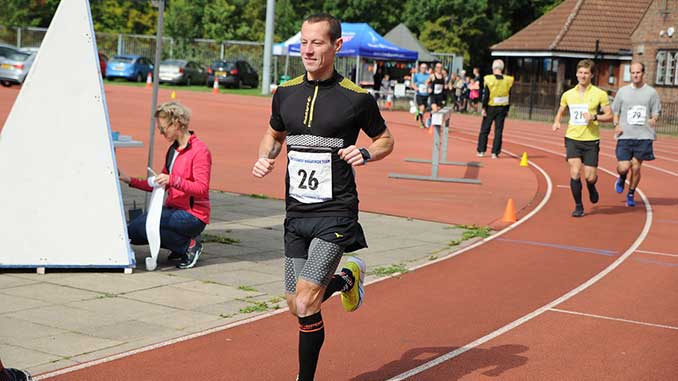 The Self-Transcendence 24 Hour Race Tooting Bec 2017 was won by Norbert Mihaliy who set a new course record by a kilometer with 259.406 km (161.187 miles). Second place was Jamie Hauxwell with 222.576 km (147.142 miles). Third was Matthew Blackburn with 218.257 km (135.619 miles)
Womens winner and second place overall, was Therese Falk who also set a new course record and a new Norwegian women's 24 hour record of 236.803 (106.373). Isobel Wykes was second with 203.415 (126.396 miles) and third was Charlotte Smith with 171.190 (106.373 miles).
24 of the 45 starters exceeded 100 miles.
Top positions in the Self-Transcendence 24 Hour Race Tooting Bec 2017
| | | | | |
| --- | --- | --- | --- | --- |
| Position | Name | Nat. | Km | Miles |
| Men | | | | |
| 1 | Norbert Mihalik | HUN | 259.406 | 161.187 |
| 2 | Jamie Hauxwell | GBR | 222.576 | 147.142 |
| 3 | Matthew Blackburn | GBR | 218.257 | 135.619 |
| | | | | |
| Women | | | | |
| 1 | Therese Falk | NOR | 236.803 | 147.142 |
| 2 | Isobel Wykes | GBR | 203.415 | 126.396 |
| 3 | Charlotte Smith | GBR | 171.190 | 106.373 |
Race links
Provisional Results: uk.srichinmoyraces.org/london-24/2017
Website: richinmoyraces.org/london-24
Photos: Gallery for Sri Chinmoy Races.
Race Report: James Young – Self Transcendence 24 hour track race [Report]
Race Report: Jon Fielden – Self Transcendence 24 Hours (Tooting Bec) – Race Report