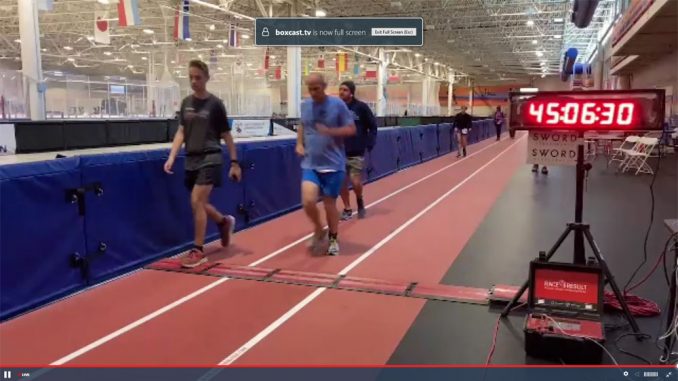 The 6 Days in the Dome 2021 at the Pettit National Ice Center in Milwaukee, WI got underway last week with two 24 hour races and a 48 hour. The winner of the first 24 hour was Tor Gudmundsen (USA) with 124.55 miles (200.44 km). First woman was Heather McComb with 101.1270 miles (162.7481km).  The following day Alex Ramsey took the win with 129.5086 miles (208.4239 km) holding off a strong challenge from Angie Darbyson (USA) 128.4064 miles (206.6501 km).
In the 48 hour Olivier Leblond (USA) saw victory even though he  retired early with an injury – tight socks contributing to swelling in his feet, with 219.8891 miles (353.8772 km). Second was Marisa Lizak (USA) with 219.8891 miles (353.8772 km) and third was Lisa Devona (USA) with 213.5515 miles (343.6778 km).
The Six Day Race is just about at the 45 hour mark and is led by Viktoria Brown (CAN) with 206.3871 miles (332.1479 km) who has already broken her own 48 hour Canadian record. Second is Joe Fejes (USA) with 205.0094 miles (329.9307 km) and third is Budjargal Byambaa (MGL) with 183.7920 miles (295.7846 km).
6 Days At The Dome Links
24 and 48 hour results
6 Day race results
6 Days In The Dome website
Live streaming video – The Big Push