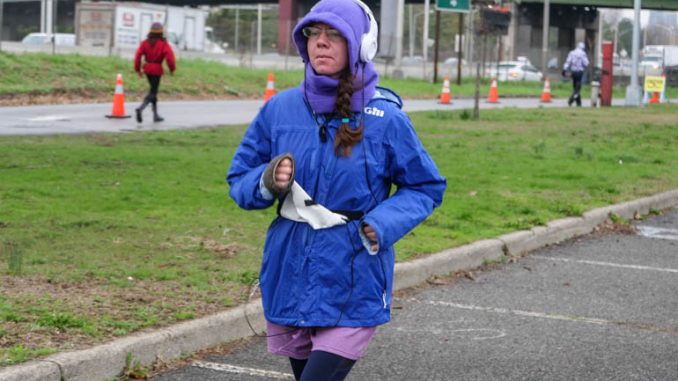 After 3 days at the Sri Chinmoy Ten and Six Day Races 2018, Asprihanal Pekka Aalto leads the 10 day race with 304 miles (489 km) and Susan Marshall leads the womens race with 215 miles (346 km).
Setting a formidable pace, Finland's greatest multiday runner is on target for a record- breaking race. Already 25 miles ahead of last years 10 day race winner Budjargal Byambaa and averaging 101.6 miles a day Ashprihanal is enjoying the freedom of the 10 day race format that contrasts with the more structured style of the Self-Transcendence 3100 mile race.
Budjargal Byambaa is also having a great race no doubt lifted by the leader to dig deeper. Nicolae Buceanu is also averaging over 80 miles a day and is holding onto third place while Pavel Zuk and Yuri Trostenyuk, the 2016 3100 mile race winner are not so far behind.
Susan Marshall still leads the more closely spaced womens race with 215 miles the best daily totals all three days and Ilvaka Memcova is still not far behind in second place while Nataliya Hlushchuk has moved into third place
The weather has been cold and windy.
| | | | |
| --- | --- | --- | --- |
|  Pos | Name | Country | Miles |
| Men | 10 Day Race | | |
| 1 | Ashprihanal Aalto | FIN | 304.8 |
| 2 | Budjargal Byambaa | MON | 279.2 |
| 3 | Nicolae Buceanu | ROM | 242.4 |
| | 33 starters | | |
| Women | 10 Day Race | | |
| 1 | Susan Marshall | NZL | 215.2 |
| 2 | Ilvaka Nemcova | CZE | 200 |
| 3 | Nataliya Hlushchuk | UKR | 192.8 |
| | 18 starters | | |
Links
Race website: Sri Chinmoy Ten and Six Day Races
Utpal Marshalls Daily Race video and photo blog: Perfection-Journey
6 and 10 Day Races 2017: the full report from Sahishnu