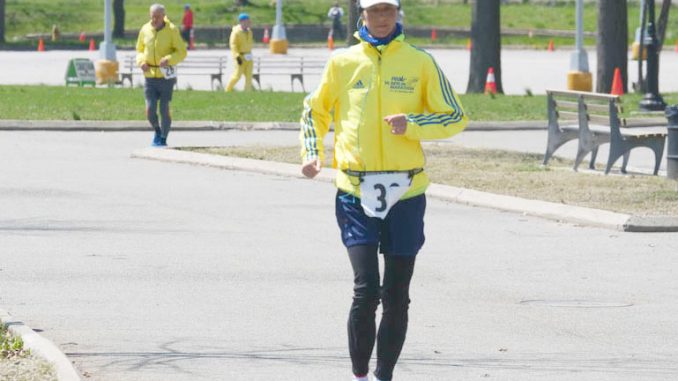 Day 4 of the Sri Chinmoy Ten and Six Day Races 2018. Budjargal Byambaa had an immense day clocking 97 miles while Ashprihanal developed a fever yet still manged to record a 55 mile day. Nicolae also had a good day covering 74 miles. Pawel Zuk in 4th and Yuri Trostenyuk in 5th both had 80+ mile days
Susan Marshall dropped 16 miles on her day 6 total of 61 miles and Ilvaka reduced Susan's lead to 5 miles whilst Nataliya closed in with a 61.6 mile day to take the days honours. The weather is cold, especially at night and the forecast is for this to continue.
The Sri Chinmoy Six day race got underway at noon.
| | | | |
| --- | --- | --- | --- |
| Pos | Name | Country | Miles |
| Men | 10 Day Race | | |
| 1 | Budjargal Byambaa | MON | 377.6 |
| 2 | Ashprihanal Aalto | FIN | 360 |
| 3 | Nicolae Buceanu | ROM | 316.6 |
| | | | |
| | 33 starters | | |
| Women | 10 Day Race | | |
| 1 | Susan Marshall | NZL | 260.8 |
| 2 | Ilvaka Nemcova | CZE | 255.2 |
| 3 | Nataliya Hlushchuk | UKR | 254.4 |
| | 18 starters | | |
| | | | |
Links
Race website: Sri Chinmoy Ten and Six Day Races
Utpal Marshalls Daily Race video and photo blog, Perfection-Journey: Dive Deep Within
6 and 10 Day Races 2017: the full report from Sahishnu