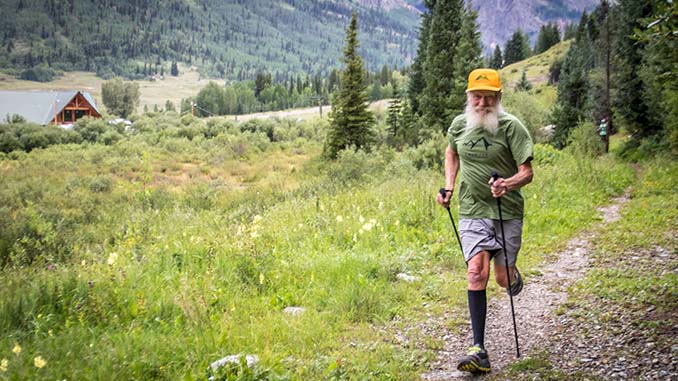 The Silverton 6 Day Race 2017 results are available with the completion of the 6 day race this morning. Scott Thompson prevailed with 278 miles. 16 year old Cameron Plate showed remarkable resilience to claim second place from day 1 and third placed Rick Cheever was very happy with his 150 miles.
Women's winner was Noel Quinn with 140 miles managing to hold off Patricia Carroll who finished with 125 miles and third was Sophia Vazquez with 105 miles.
The Silverton 1000 Multi-Day Runs are perhaps the most challenging multiday races on the calendar in terms of their size as this is the only pure trail 6 day race that exists at this time. With 250 feet of elevation gain and loss each lap, the event winner Scott Thompson, covered 69,500 feet of gain over the 6 days.
Catogory winners
6 hours – F Monique van den Boogaart 28m (45.06 km)
12 Hours F Samantha Woodside 33 m (53.11 km)
24 Hours F Ivy Lefebvre 50 m (80.47 km)
48 Hours F Christine Tokarz 100 m (160.93 km)
72 Hours F Abbey Hendricks 132 m (212.43 km)
24 Hours M Ricky Kim Wrinkle 70 m (112.65 km)
48 Hours M Eli Boardman 101 m (162.54 km)
72 Hours M Timothy Trine 100 m (160.93 km)
| Place | Bib | | Gender | Name | Age | Miles | KM |
| --- | --- | --- | --- | --- | --- | --- | --- |
| 1 | 21 | | 1M | Scott Thompson | 39 | 278 | 447.4 |
| 2 | 14 | | 2M | Cameron Plate | 16 | 234 | 376.59 |
| 3 | 4 | | 3M | Rick Cheever | 34 | 150 | 241.4 |
| 4 | 7 | | 4M | Mike Garcia | 69 | 145 | 233.35 |
| 5 | 16 | | 1F | Noel Quinn | 34 | 140 | 225.31 |
| 6 | 3 | | 2F | Patricia Carroll | 67 | 125 | 201.17 |
| 7 | 11 | | 5M | Vincent Ma | 47 | 108 | 173.81 |
| 8 | 32 | | 3F | Sophia Vazquez | 25 | 105 | 168.98 |
| 9 | 31 | | 6M | Criss Furman | 70 | 104 | 167.37 |
| 10 | 8 | | 7M | Elijah Vazquez | 25 | 103 | 165.76 |
| 11 | 5 | | 4F | Pati Coury | 59 | 102 | 164.15 |
| 12 | 30 | | 8M | Raul Olmo | 59 | 100 | 160.93 |
| 13 | 17 | | 5F | Benita Shults | 52 | 70 | 112.65 |
| 14 | 9 | | 9M | Anthony Culpepper | 36 | 66 | 106.22 |
| 15 | 12 | | 6F | Mae Martinez | 69 | 66 | 106.22 |
Race Links
Live results: www.aravaiparunning.com/ultracast/
Website: www.Aravaiparunning.com/silverton-1000/
Website: www.silverton1000.com
Facebook: www.facebook.com/Silverton1000/
Related posts
Silverton 6 Day Race 2017 – Updates 80 Hours