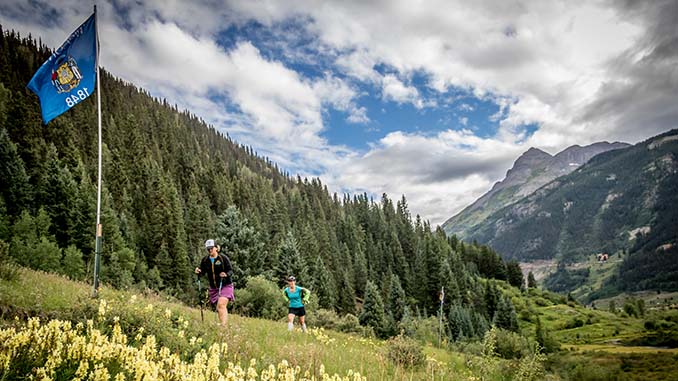 Silverton 6 Day Race 2017 – Updates 100 Hours
Scott Thompson is maintaining a good pace as is 16 year old Cameron Plate who has an 80 mile lead over Mike Garcia and Rick Cheever locked together on 133 miles for third and fourth places. Noel Quinn still leads the women and Patricia Carroll has a good grip on second place at the moment.
Results from the shorter races are available at the  Ultracast link below.
| Place | Gender | Name | Age | Miles | KM | Time |
| --- | --- | --- | --- | --- | --- | --- |
| 1 | 1M | Scott Thompson | 39 | 214 | 344.4 | 100:51:44 |
| 2 | 2M | Cameron Plate | 16 | 183 | 294.51 | 101:08:24 |
| 3 | 3M | Mike Garcia | 69 | 133 | 214.04 | 97:26:15 |
| 4 | 4M | Rick Cheever | 34 | 133 | 214.04 | 100:15:37 |
| 5 | 1F | Noel Quinn | 34 | 126 | 202.78 | 100:48:26 |
| 6 | 2F | Patricia Carroll | 67 | 115 | 185.07 | 97:27:02 |
| 7 | 5M | Vincent Ma | 47 | 108 | 173.81 | 83:27:27 |
| 8 | 6M | Raul Olmo | 59 | 81 | 130.36 | 101:13:50 |
| 9 | 3F | Pati Coury | 59 | 79 | 127.14 | 100:43:30 |
| 10 | 4F | Sophia Vazquez | 25 | 76 | 122.31 | 100:57:48 |
| 11 | 7M | Elijah Vazquez | 25 | 76 | 122.31 | 101:02:59 |
| 12 | 8M | Criss Furman | 70 | 69 | 111.04 | 101:04:32 |
| 13 | 5F | Mae Martinez | 69 | 63 | 101.39 | 100:29:09 |
| 14 | 6F | Benita Shults | 52 | 40 | 64.37 | 100:56:42 |
Race Links
Live results: www.aravaiparunning.com/ultracast/
Website: www.Aravaiparunning.com/silverton-1000/
Website: www.silverton1000.com
Facebook: www.facebook.com/Silverton1000/
Related posts