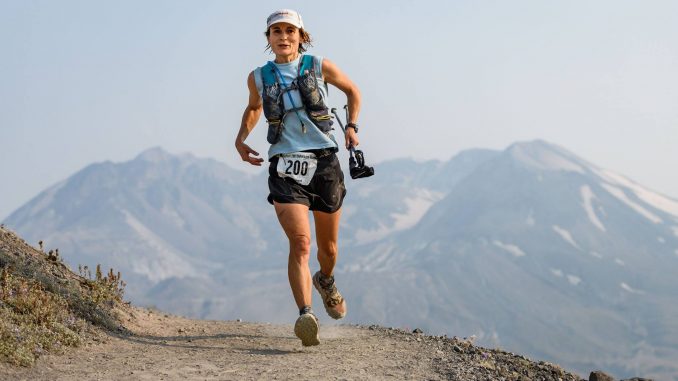 The Bigfoot 200 Endurance Run 2017 starts at Marble Mountain Sno-Park at Mount St. Helens National Monument in the Cascade Mountains of Washington State and finishes in Randle, a point to point traverse of the Cascades.
The course is a non-stop 206.5 mile trail race with 15,240 meters of ascent and a time limit of 105 hours.
The race was won by Jay Kinsella setting a new course record by over 6 and a half hours. Second place Peter Mortimer finished a day ahead of his last years time also within the old record.
Third place was a tie between Ryan Wagner and Scott Loughney.
In the womens race Van Phan finished strongly to take first place  in just over 72 hours with Susan Kramer finishing some half an hour later. Jean Beaumont (pictured) came third.
The Bigfoot 200 Endurance Run forms one part of a trio of 200 milers the others being Tahoe 200 in September in CA and  NV, and Moab 200 in October in Utah.
| | | |
| --- | --- | --- |
| Pos | Name | Time |
| Men | | |
| 1 | Jason Kinsella | 55:49:01 |
| 2 | Peter Mortimer | 60:50:52 |
| 3 | Ryan Wagner | 65:14:41 |
| 3 | Scott Loughney | 65:14:41 |
| Women | | |
| 1 | Van Phan | 72:22:09 |
| 2 | Susan Kramer | 72:53:31 |
| 3 | Jean Beaumont | 75:54:28 |
Race Links
Race website: www.bigfoot200.com
Live tracking: https://www.bigfoot200.com/2017-live-tracking.html
Results: http://www.ultralive.net/bigfoot200#tracking/leaders
Facebook: Bigfoot 200 Endurance Run
Photos: Howie Stern
Race Reports
Race Director Candice Burt talks to The Chronicle: Bigfoot 200 Includes New Records, a Successful Rescue Mission