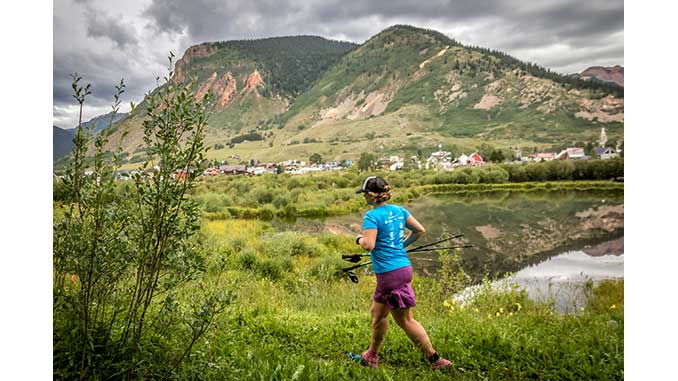 Silverton 6 Day Race 2017 – Updates 80 Hours
80 hours have passed at the Silverton 1000. In the 6 day race Scott Thompson still leads with Cameron Plate with a comfortable cushion over third placed man Rick Cheever whilst Vincent Ma and fifth placed Mike Garcia are still in striking distance of that third spot.
Noel Quinn leads the women with 113 miles and Pat Carroll in second has reached the 100 mile mark.
In the 72 hour Abbey Hendricks leads with 212.43 km. In the 48 hour Christine Tokarz leads with 160.93, – 100 miles and Ricky Kim Wrinkle leads the 24 hour with 112.65 km. Full results live online at the lonk below.
| Place | Gender | Name | Age | Miles | KM | Time |
| --- | --- | --- | --- | --- | --- | --- |
| 1 | 1M | Scott Thompson | 39 | 175 | 281.64 | 80:13:11 |
| 2 | 2M | Cameron Plate | 16 | 153 | 246.23 | 80:07:54 |
| 3 | 3M | Rick Cheever | 34 | 116 | 186.68 | 80:12:35 |
| 4 | 1F | Noel Quinn | 34 | 113 | 181.86 | 80:13:11 |
| 5 | 4M | Vincent Ma | 47 | 109 | 175.42 | 78:26:37 |
| 6 | 5M | Mike Garcia | 69 | 104 | 167.37 | 75:11:02 |
| 7 | 2F | Patricia Carroll | 67 | 100 | 160.93 | 75:11:02 |
| 8 | 6M | Elijah Vazquez | 25 | 66 | 106.22 | 80:12:19 |
| 9 | 3F | Sophia Vazquez | 25 | 66 | 106.22 | 80:14:50 |
| 10 | 4F | Pati Coury | 59 | 64 | 103 | 80:06:01 |
| 11 | 7M | Raul Olmo | 59 | 61 | 98.17 | 79:19:27 |
| 12 | 8M | Criss Furman | 70 | 55 | 88.51 | 80:09:12 |
| 13 | 5F | Mae Martinez | 69 | 50 | 80.47 | 74:02:30 |
| 14 | 6F | Benita Shults | 52 | 27 | 43.45 | 79:42:40 |
Race Links
Live results: www.aravaiparunning.com/ultracast/
Website: www.Aravaiparunning.com/silverton-1000/
Website: www.silverton1000.com
Facebook: www.facebook.com/Silverton1000/