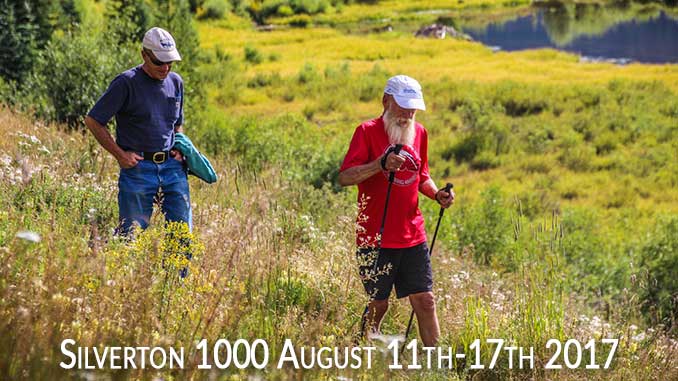 The Silverton 6 Day Race  2017 kicked off today at 9:00 am in Colorado. Small field but there are quite a few events throughout the duration of the 6 day – 6/12/24/48 and 72 hour races. The course is a 1 mile trail loop around the Kendall Mountain Recreation Area in Silverton, CO. Lying at 9318 feet, each loop features 250 feet of elevation gain and subsequent loss making this one of the most difficult 6 day races on the calendar.
1000 Mile Challenge
While the 24 hour, 48 hour, 72 hour, and 6 day runs are all "go as you please" format, meaning the runners can rest when they choose, in order to be eligible for the 1000 mile run challenge, they must complete at least 1 mile/loop of the course each consecutive hour of the event. In addition, there are cutoffs in the 1000 mile run challenge of 350 miles in 6 days, 700 miles in 12 days, and all 1000 miles in 18 days.
These are the results at the Silverton 6 Day Race 2017 8 hour point. Scott Thompson leads the men and Noel Quinn leads the ladies.
| | | | | | | | |
| --- | --- | --- | --- | --- | --- | --- | --- |
| Place | Gender | Name | Age | Miles | KM | Time | Bib |
| 1 | 1M | Scott Thompson | 39 | 32 | 51.5 | 07:49:58 | 21 |
| 2 | 2M | Cameron Plate | 16 | 30 | 48.28 | 08:05:08 | 14 |
| 3 | 3M | Vincent Ma | 47 | 27 | 43.45 | 07:40:52 | 11 |
| 4 | 4M | Rick Cheever | 34 | 25 | 40.23 | 07:30:09 | 4 |
| 5 | 1F | Noel Quinn | 34 | 25 | 40.23 | 07:30:13 | 16 |
| 6 | 5M | Mike Garcia | 69 | 21 | 33.8 | 07:58:44 | 7 |
| 7 | 2F | Patricia Carroll | 67 | 21 | 33.8 | 07:58:44 | 3 |
| 8 | 6M | Criss Furman | 70 | 16 | 25.75 | 07:19:31 | 31 |
| 9 | | Sophia Vazquez | -1 | 14 | 22.53 | 08:04:37 | 32 |
| 10 | 7M | Elijah Vazquez | 25 | 14 | 22.53 | 08:04:38 | 8 |
| 11 | 3F | Pati Coury | 59 | 14 | 22.53 | 08:08:13 | 5 |
| 12 | 4F | Mae Martinez | 69 | 13 | 20.92 | 07:55:16 | 12 |
| 13 | 8M | Raul Olmo | 59 | 8 | 12.87 | 06:53:36 | 30 |
Race Links
Live results: www.aravaiparunning.com/ultracast/
Website: www.Aravaiparunning.com/silverton-1000/
Website: www.silverton1000.com
Facebook: www.facebook.com/Silverton1000/