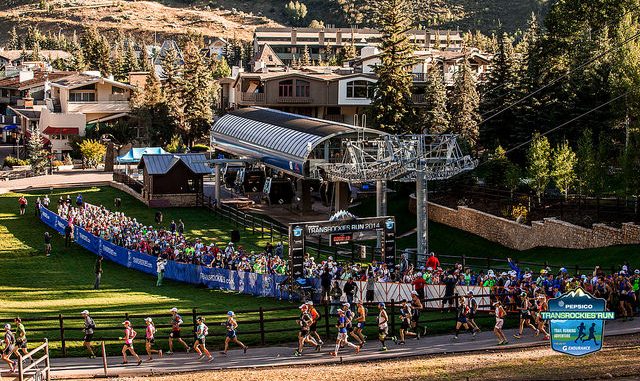 The Transrockies Run  2017 Salomon Stage Two of the  is one of the most difficult stages 3,200′ (975m) of gain in just 13.3 miles (21.4k) between Vicksburg and Twin Lakes, making it the biggest climbing day of TRR. Despite winter-like temps, skies remained clear and spirits were high at the top of Hope Pass at 12,536′ (3821 meters).
The climb to the summit of Hope Pass is one of the most challenging parts of the 6-day run, but it offers amazing views and is well worth the effort. The technical terrain of loose rocks, boulders and switchbacks gave runners a real taste of Colorado's trail running.
Stage Results
Stage Two is all about big climbs and big performances. In the OM category, the Pirates of Pima, Charlie Ware and Catlow Shipek keep control of the ship, going 2:06:34 for the stage. GU Crew's Keely Henninger and Amanda Basham motored over Hope Pass in a speedy 2:28:11 to retain the pole position in the OW division, going into Stage Three. In the hotly contested OX category, Team Inov8's Germain Grangier and Katie Schide held off the hard charging Salomon Running team of Ryan Lassen and Cat Bradley to take the stage in 2:17:21.
The Run 6 Solo Open division saw some serious racing today. GU Crew's Magdalena Boulet blasted past the field with a 2:28:13- talk about Roctane! France's Yoann Stuck was anything but today; he claims the number one spot in the stage, running 2:05:18. In the Run 6 50+ division, Blaise Brochard of New York keeps the leader's jersey with a commanding 2:35:59. Vicky Oswald of California snags the top podium spot in the women's competition with a 3:06:06.
Your Run 3 leaders remain unchanged after Stage Two with Helen Galerakis (3:01:52) and Mike Popejoy (1:59:05) of Team Kahtoola, retaining the top spots. Full results at the link below.
Race links
Race website: TransRockies Run.com
Race results: http://transrockies-run.com/results-2/
Facebook: Transrockies
Photos: Raven Eye Photography
Daily photos courtesy of Raven Eye Photography can be viewed HERE. Following the event, Raven Eye will make souvenir photos available for purchase.