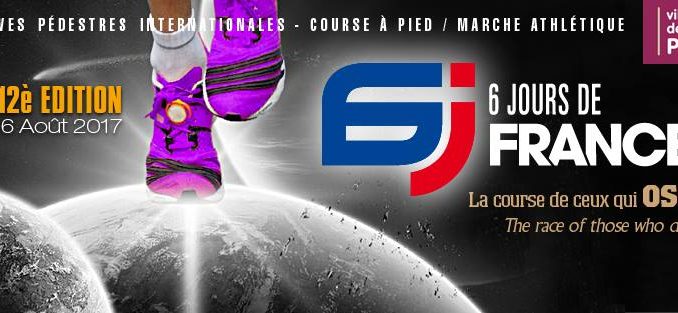 6 Jour de France 2017 – Final Results
The 6 Jour de France 2017 finished August 26th in Privas, southern France with Christian Mauduit (FRA) claiming his second win in a row at the event surpassing last years total with 837.803 km. Olivier Chaigne (FRA) also a two time winner of the event took second place with 726.623 km. Fernando Soriano Rubio (ESP) held on to third place with a pb of 707.243 km.
In the womens race Maria Jose Tomaz De Aquino (ESP) dominated from the start with a tremendous performance in her first 6 day race finishing with 670.523 km, fourth best performance in the world this year and 6th overall in the race. Second place was Maria Pierre (FRA) who ran well in a competitive field. Mimi Chevillon was third with 620.13 km.
Philippe Clement won the walkers division with 652.93 km and the womens race was won by Claudie Bizard with 627.3, good for third woman overall.
Gerard Cain will be stepping down as Race Director of the 6 Jours de France and will be volunteering in the 2018 event where the new man at the helm will be Gérard Seguí.
18:58 Editor's note
The original post included incorrect results which have now been amended.
Place
Bib
Gen
Name
KM
Ctry
Men
6 Day Run
1
10
M
Christian Mauduit
838.204
FRA
2
131
M
Olivier Chaigne
726707
FRA
3
127
M
Fernando Soriano Rubio
707.260
ESP
Women
1
32
F
Maria Jose Tomaz De Aquino
670.540
ESP
2
16
F
Maria Pierre
634.840
FRA
3
134
F
Mimi Chevillon
617.54
FRA
Men
6 Day Walk
1
58
M
Philippe Clement
650.123
FRA
2
108
M
Patrick Cailleaux
627.828
FRA
3
53
M
Christopher Biet
627.536
FRA
Women
1
122
F
Claudie Bizard
624.339
FRA
2
23
F
Sabrina Freyburger
509.491
FRA
3
96
F
Martina Hausmann
506.373
GER
Race links
Final results in pdf format
Race website: http://www.6jours-de-france.fr/
Facebook: /www.facebook.com/6-jours-de-France</a