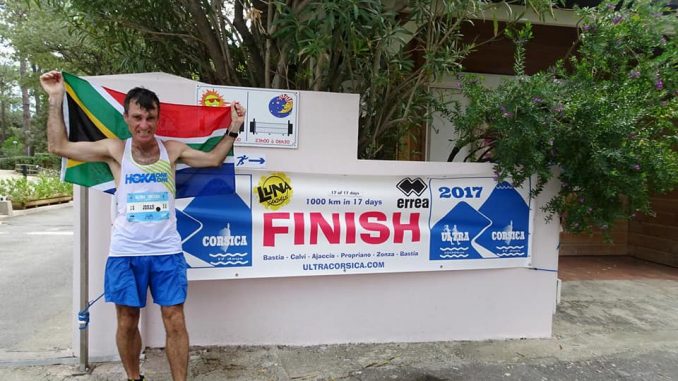 Ultra Corsica 2017 – Prelimnary Placings
The final stage of the 17 day journey that was Ultra Corsica 2017 drew to a close today with Johan van der Merwe (RSA) and Jannet Lange (NLD) taking top spots.
Jannet, on her blog, reports a long final stage with difficult weather conditions amounting  to 1005 km with 18000 altitude, taking 122 hours and 5 minutes.
Johan said on his Facebook page:
Stage 17 of 17 completed. Went off course again and had to run very hard over the final 10km to secure the sub 89 hour result. Thanks to all who have supported me during my adventure. I will post a decent race report soon. Special thank to my wife Corine Van Der Merwe and Hoka South Africa Hoka One One.
These are not the official results which will be published on the website when all the checks have been completed. These are prelimnary placings and are an approximate guide to what occurred.
Ultra Corsica 2017 – Prelimnary Placings
| | | | |
| --- | --- | --- | --- |
| Pos | Name | Ctry | Time |
| 1 | Johan van der Merve | RSA | 88h 36 |
| 2 | Hayato Kochi | JPN | 110h 0 |
| 3 | Henrik Ortved | DEN | 116h 27 |
| 4 | Jannet Lange | NDL | 122h 5 |
| 5 | Berit Jessen | DEN | 137h 5 |
| 6 | Jean Paul Frey | CAN | 141h 29 |
| 7 | Hans Lachmann | GER | 147h 17 |
| 8 | Marcelo Degiorgio | ARG | 147h 17 |
| 9 | Karla Kent | CZE | 163h 8 |
| 10 | Martin Hack | AUS | DNF |
| 11 | Bernard Fisset | BEL | DNF |
| 12 | Peter Suijkerbuijk | NDL | DNF |
| 13 | Susan Brocklebank | GBR | DNF |
| 14 | Jeanette Rogers | GBR | DNF |
| 15 | Olivier Joubert | FRA | DNF |
| 16 | Patrick Sweeney | USA | DNF |
| | | | |
Race Links
Race website: www.ultracorsica.com
Facebook: Ultra Corsica
Race Director: Philippe Poupard Facebook
Jannet Lange Blog: Ultra Corsica Dag 12
Johan van der Merwe: Facebook