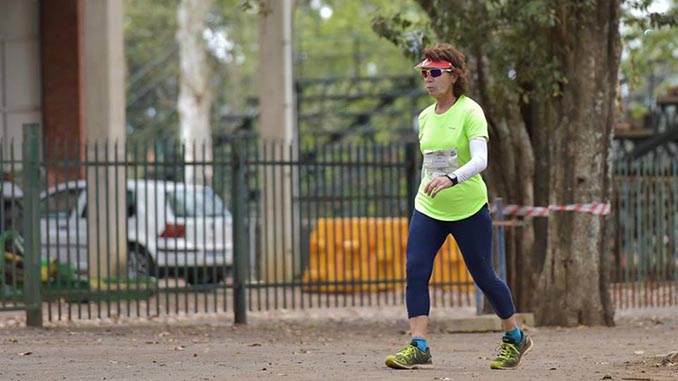 The Capital Classic 6 Day Race 2017 in Pietermaritzburg, RSA, is in its fourth day. The event is truly a festival with 15 races spread over the eight day period including 5/12/24/48 hour events plus marathons and a 100 km.
The course is a one kilometre loop in Alexandra Park and described as "almost flat".
The most amazing thing though is the modest field is mostly women. To my knowledge there has never been a 6 day race where the women outnumber the men and in this race they are outnumbered 3:1.
The latest standings I have, put women first and second – Martie Boesenberg and Amanda Economon with Frik Du Preez chasing that second spot.
Again these are not official results but current data taken from the timing page at the link below.
| | | | |
| --- | --- | --- | --- |
| Pos | Name | M/F | Km |
| 1 | Martie Boesenberg | F | 308 |
| 2 | Amanda Economon | F | 263 |
| 3 | Frik Du Preez | M | 262 |
| 4 | Michelle Fookwe | F | 173 |
| 5 | Belinda Hope | F | 172 |
| 6 | Adelle Govender | F | 169 |
| 7 | Johannes Nel | M | 159 |
| 8 | Carol Nepgen | F | 151 |
| 9 | Jean Nepgen | M | 103 |
| | | | |
Race updates: Wright Race Timing
Race website: www.100cc.co.za
Facebook: 100 Capital Classic