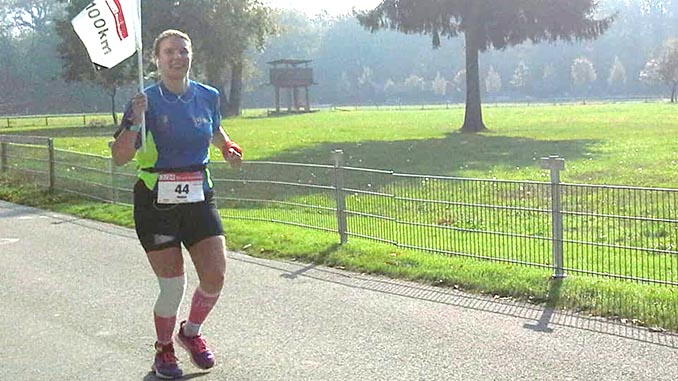 The Brugg 24/12/6 Hour Races 2017 drew to a close at noon on Sunday local time in Switzerland. Simon Schmid (SUI) was first man in the 24 hour with 212.975 km. Second was Hannes Veide (EST) and third was Julian Schneckenburger (SUI).
Women's winner was Saara Mikkonen (SWE) with 172 km. Second was Steffi Schiffgen (GER) and third was Sarka Kolbova (CZE).
In the 12 hour, Helen James (GBR) won outright with 114 km after a protracted battle with Juana Vasella (GER) just 500 m behind. Leading man was Wolfgang Metzger with 102 km.
Ivan Penalba Lopez (ESP) won the mens 6 hour with 102 km and first woman was Gabriella Verga (SUI) with 43 km.
In 2018 Brugg will host the Swiss National 12 Hour Championships and are scheduled to take place 22-23 September 2018.
| | | | |
| --- | --- | --- | --- |
| Pos | Name | Ctry | Km |
| Men | 24 hour | | |
| 1 | Simon Schmid | SUI | 212.975 |
| 2 | Hannes Veide | EST | 208.829 |
| 3 | Julian Schneckenburger | SUI | 200.982 |
| | | | |
| Women | 24 hour | | |
| 1 | Saara Mikkonen | SWE | 172.417 |
| 2 | Steffi Schiffgen | GER | 159.144 |
| 3 | Sarka Kolbova | CZE | 155.586 |
| | | | |
| Women | 12 hour | | |
| 1 | Helen James | GBR | 114.973 |
| 2 | Juana Vasella | GER | 114.329 |
| 3 | Sabrina Lederle | AUT | 102.452 |
| | | | |
| Men | 12 hour | | |
| 1 | Wolfgang Metzger | GER | 102.828 |
| 2 | Marc Graf | SUI | 89.760 |
| 3 | Beat Knechtle | SUI | 77.883 |
| | | | |
| Men | 6 hour | | |
| 1 | Ivan Penalba Lopez | ESP | 82.071 |
| 2 | Rolf Fischbacher | SUI | 68.935 |
| 3 | Jörg Destefani | SUI | 68.041 |
| | | | |
| Women | 6 hour | | |
| 1 | Gabriella Verga | SUI | 43.018 |
| 2 | Celina Knechtle | SUI | 40.050 |
| 3 | | | |
| | | | |
Race Links
Live results online
Race website: www.24stundenlauf.ch
Facebook: 24 Stundenlauf Brugg
Helen James: Brugg 12 hour race