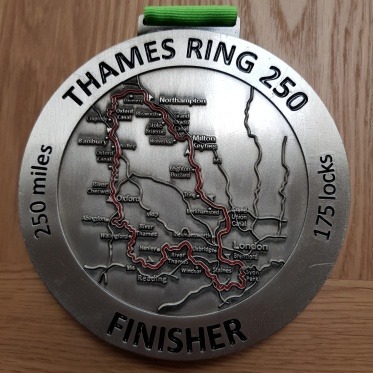 The Thames Ring 250 2021 is a 250 mile trail race around London starting in Streatley-on-Thames and follows an anti-clockwise loop East along the Thames, up the Grand Union Canal and back to the Thames via the Oxford Canal and back to the start on a course almost entirely on canal and riverside paths.
Organised by Lindley Chambers the RD at Challenge Running, the race starts at 10:00 am today 23rd of June, and runners have 100 hours  (4 days 4 hours) to complete the run. The runners navigate using maps, gpx files and there are checkpoints every 25 miles or so.
The event was first held in 2009 and every 2 years since and this year sees 54 entrants hoping to complete the distance. John Stocker with barely a few weeks since since his world record run at Challenge Running's last event, the Suffolk Back Yard Ultra, is clearly a man who is in his element in multidays. Ultrarunning World correspondent Naomi Moss is taking part as is Catherine Stoneman who recently set a FKT on the Greensand Way. Lots of experience in the event and a lot of familiar names. Best of luck to all.
Links
Live Tracking
Facebook: Challenge Running
Race website: www.challenge-running.co.uk