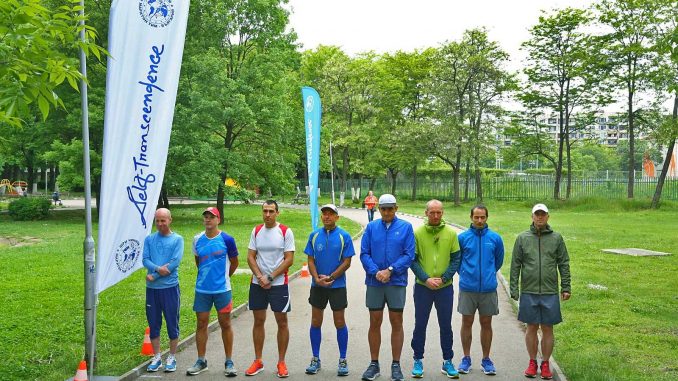 The Sri Chinmoy 6 Day Race 2021 got underway at noon today in Park St. St. Peter & Pavel in Sofia, Bulgaria.
The race which normally takes place in New York along with the 10 day race has only recently been organised and features five previous participants in the 3100 mile race which also usually takes place in New York. Due to the Covid situation in the US the normal calendar of SCMT multiday events has been suspended with the Self-Transcendence 3100 taking place late last year in Austria.
The SCMT in New York are holding a 24/12 hour event in Rockland State Park on June 12th 2021.
In the meantime, news from the course at the 6 hour mark shows Andrey Stefanov with a slight lead. Last year's 3100 mile race winner Andrea Marcato is shoulder to shoulder with another 3100 veteran, Namitabha Arsic.
| | | | | |
| --- | --- | --- | --- | --- |
| Pos | Name | | Km | Miles |
| Men | 6 Day | | | |
| 1 | Andrey Stefanov | BGR | 64 | 39 |
| 2 | Namitabha Arsic | SRB | 61 | 37 |
| 3 | Andrea Marcato | ITA | 61 | 37 |
| 4 | Ananda-Lahari Zuscin | SVK | 59 | 36 |
| 5 | Sandro Zincarini | ITA | 54 | 33 |
| 6 | Pranjal Milovnik | SVK | 54 | 33 |
| 7 | Smarana Puntigam | AUT | 54 | 33 |
| 8 | Priyavardin Reisecker | AUT | 52 | 32 |
| | | | | |