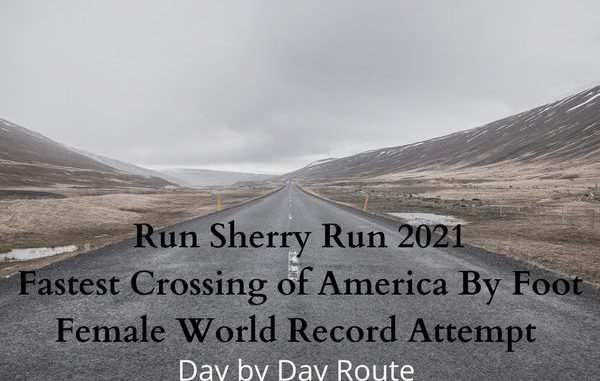 Veteran American ultrarunner Sherry Meador, 55, will be attempting to set a new world record for crossing the United States on foot from Los Angeles to New York starting May 1st 2021. She has registered with Guinness World Records, and her crew will be meticulously documenting the run with video, photos, Strava, and signed witness statements every day.
You can follow Sherry Meador's Trans Am record attempt each day at
https://tinyurl.com/RunSherryRun
, you can see approximately where she will be each day. Her overall goal is to average at least 60 miles a day. The current female trans am record was set by Sandra Villines (USA) in 2017 55:16:23:00.
If you are interested in helping out with Sherry Meador's Trans Am record attempt crewing or running with Sherry, send an email to
[email protected]
or call/text Marv, her crew chief, at (303) 906-4024 or the official race phone 405-926-7446.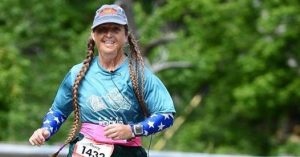 Due to the 24 hour a day nature of the run and all the crew will be doing to support Sherry and gather the immense amount of documentation for a world record, you may not get an immediate response. But all help is welcome and appreciated. Keep in mind that because Sherry is going for a world record, she will not be able to sit around and chat. All her time and attention will be on moving forward or resting. Also, anyone who wants to run with her, Guinness rules state that they must be behind her, not alongside or in front.
Please share this with any running groups or organizations that might be interested in supporting Sherry. She is getting support from her employer, Swift Transportation, but she is paying for most of expenses for this two-month adventure herself.
gofundme.com/f/run-sherry-run-2021-transamerica-run
Sherry has an impressive list of ultras and multidays under her belt including the last 10 Vol-States and the last 12 Ancient oak 100 events.
Website:
www.runsherry.com
Facebook:
Run Sherry Run 2021