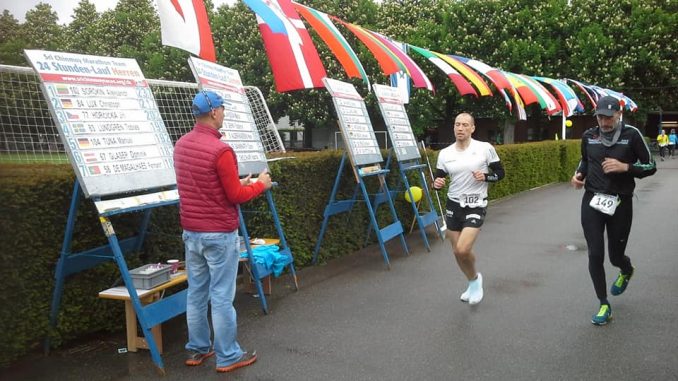 The Sri Chinmoy 24/12 Hour Race Basle has just drawn to a close and these look like the final results which appear to show a clear victory for Aleksandr Sorokin (LTU) eclipsing his previous best of 260 km set last year in Timisoara. Fifth best in the world in 2018, this will be a target to reach for many runners for the rest of the year.
Also improving his pb was second placed Christoph Lux (GER) adding 45 kms to his 2014 performance in Basle for a very respectable 252.833 km.
Not to be outdone Ji?í Hor?i?ka (CZE) also transcended himself by 20 km for third place.
In the women's race Leonie Ton (NLD) ran 237 km to set a new National Women's record in her first 24 hour race. With speed that saw her place third in the world in 2017 at the 6 hour distance, Leonie found a way to translate that into the best women's 24 hour this year so far.
Fabienne Géhin took third place for the second year in a row to put France on the podium as one of nine coutries represented by the top three placed runners.
The Swiss National 12 Hour Championships was won by Samuel Wings with 137.459 km another excellent performance, 8th best in the world so far this year.
Jens-Uwe Brack (GER) was second with 130.199 km and third was Igor Kirsic (CRO) also setting a pb with 128,616.
Antje Krause (GER) won the women's race with 122.158 km, Diana Kämpe (DNK) was second with 116.371 km. Andrea Schüpbach won the women's Swiss National title with 112.616 km.
| | | | |
| --- | --- | --- | --- |
| Pos | Name | Ctry | Km |
| Men | 24 Hour | | |
| 1 | Sorokin, Aleksandr | LTU | 272,708 |
| 2 | Lux, Christoph | GER | 252,833 |
| 3 | Hor?i?ka, Ji?í | CZE | 237,855 |
| | | | |
| Women | | | |
| 1 | Ton, Leonie | NED | 237,855 |
| 2 | Jansson, Maria | SWE | 197,910 |
| 3 | Géhin, Fabienne | FRA | 188,790 |
| | | | |
| Men | 12 Hour | | |
| 1 | Wings, Samuel | SUI | 137,459 |
| 2 | Brack, Jens-Uwe | GER | 130,199 |
| 3 | Kirsic, Igor | CRO | 128,616 |
| | | | |
| Women | | | |
| 1 | Krause, Antje | GER | 122,158 |
| 2 | Kämpe, Diana | DEN | 116,371 |
| 3 | Schüpbach, Andrea | SUI | 112,697 |
| | | | |
Full results: my3.raceresult.com/
Race website: ch.srichinmoyraces.org/