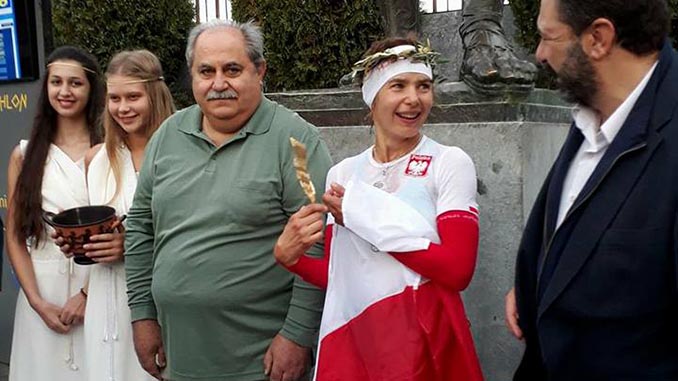 Patrycja Bereznowska sets new women's record at Spartathlon 2017.
Polands's Patrycja Bereznowska has broken Katalin Nagy's 2015 record of 25:07:12 at this years Spartahlon finishing in 24:48:18. Having won the World 24 Hour Championships in Belfast earlier this summer setting a new World record, Bereznowska is the new Queen of Sparta, dominating intermediate distance ultrarunning with this performance on her debut at this race, taking 6th place overall.
Second place was Zsuzsanna Maraz (HUN) who finished third in 2016, cutting 2 hours off her last years time. Third was Aleksandra Niwinska also from Poland and who is outranked this year in the world so far only by Bereznowska. Niwinska's time makes her the fourth fastest woman at the event.
Aleksandr Sorokin ran the 5th fastest time ever in the Spartathlon. Only Kouros has run faster. The Lithuanian was 26th at the World 24 hour championships in Belfast this year. Second placed Radek Brunner (CZR) finished in 22:49 – 7th on the all-time list of performances. Nikolaos Sideridis was third with 22:58 and again Kouros is the only Greek to have run faster.
Fourth place was this years 24 hour World Champion, Yoshihiko Ishikawa who finished in 23:20:56.
The remarkable calibre of the field this year has reaffirmed Spartathlon as the no.1 road race in its category.
369 starters, 265 finishers.
| | | | |
| --- | --- | --- | --- |
| Pos | Name | Ctry | Time |
| Men | | | |
| 1 | Aleksandr Sorokin | LIT | 22:04:04 |
| 2 | Radek Brunner | CZR | 22:49:37 |
| 3 | Nikolaos Sideridis | GRC | 22:58:40 |
| | | | |
| Women | | | |
| 1 | Patrycja Bereznowska | POL | 24:48:18 |
| 2 | Zsuzsanna Maraz | HUN | 25:43:40 |
| 3 | Aleksandra Niwinska | POL | 26:28:48 |
| | | | |
Race Links
Results: Spartathlon 2017
Race website: Spartathlon.gr