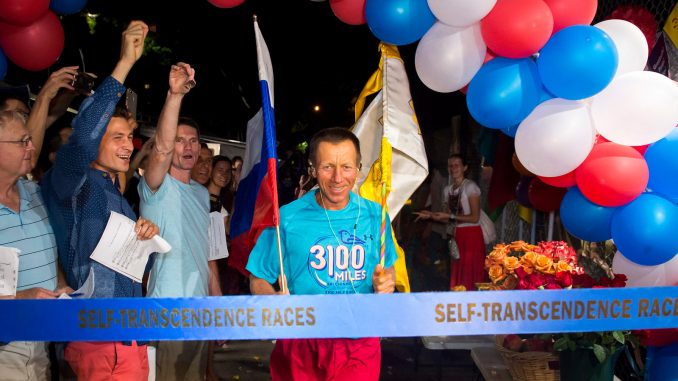 Vasu Duzhiy Wins the Self-Transcendence 3100 Mile Race 2018 Day on 45.
For the second year in a row Vasu Duzhiy is first past the finishing line at the worlds longest certified footrace in Queens, New York. Vasu finished a few minutes after 10 pm local time last night. His seventh finish at the event saw him assume the lead on Day 15 and continue to stretch away until the end. In difficult weather conditions with several heatwaves, high humidity, rain and wind, the runners have had to endure outer as well as inner challenges.
Current prediction is for Kobi Oren to finish on Thursday morning in second place on his debut at 3100 miles. Kaneenika Janakova has caught up with minimum pace after falling 46 miles behind at one point before recovering to run 60+ miles a day for the last 23 days. Surasa Mairer has moved into fourth overall with another solid outing over 61 miles. Kaneenika Janakova is in fifth and Sopan Tsekov who has been suffering with severe blisters rallied with a 62 mile day to leave him just 4 miles adrift.
Ushika Muckenhumer ran 60+ miles and remains in third place. William Sichel ran 58.1 miles, Smarana Puntigam 55.4 and Ananda Lahari Zuscin took the days honours with 70.2 miles. Only eight days remain in the seven and a half week race.
Race Links
Race website: Self-Transcendence 3100 Mile Race
Race Charts: Race charts and statistics
Utpal Marshall's Perfection-Journey Day 45 Game of The Supreme (July 31)
Yolanda Holder Facebook
Kobi Oren Facebook
William Sichel Facebook
Sri Chinmoy Ultra race photos
Sri Chinmoy's website: Sri Chinmoy.org