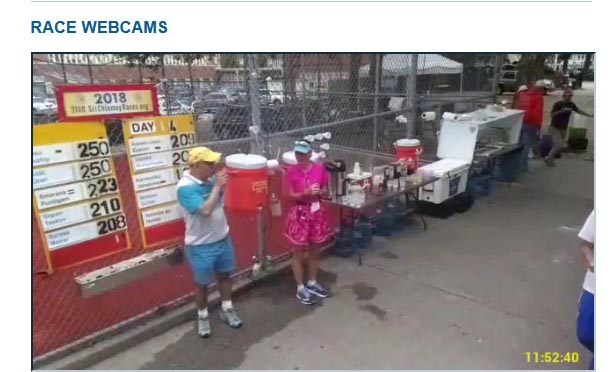 The Self-Transcendence 3100 Mile Race 2018 reached Day 4 this morning. Yesterday's mileages were still affected by the heat which is tempered by somewhat cooler weather today. At the close of play yesterday Vasu ran 71.8 and Kobi ran 72.9 miles to remain 2 laps apart. Smarana still holds third place, Sopan hit 110 laps for fourth, Surasa had a better day than day two to stretch her lead a little and consolidate 5th place overall. Ananda Lahari had a good day with 120 laps, Usika was a lap under minimum. Kannenika repeated her day two total of 106 laps while Yolanda and William continue to settle in.
Race Links
Race website: Self-Transcendence 3100 Mile Race
Race Charts: Race charts and statistics
Utpal Marshall's Perfection-Journey Day 3…Everything is Soul (June 19)
Yolanda Holder Facebook
Kobi Oren Facebook
Sri Chinmoy Ultra race photos
Sri Chinmoy's website: Sri Chinmoy.org
---
Multidays.com
The home of multiday running news and events.