The Athens International Ultramarathon Festival 2020 has almost reached the end of the third day with the 24 hour and 48 hour events already concluded.
Men's winner in the 24 hour was Eduardo Cebrian Martinez de Lago (ESP) with 241 km. Women's winner was Aoife Karen Mundow (IRL) with 231 km, fourth overall. Aoife ran 188 km at the 2019 Energia 24 hour in Belfast.
In the 48 hour, men's winner was Andrzej Wereszczak (POL) with 365 km and women's winner was Stine Rex (DNK) with 276 km.
Currently leading the 72 hour is Christian Borcan (ROU) with 357 km closely followed by Nikitas Nomikos (GRE) with 353 km.
The 6 day is led by Athanasios Stimoniaris (GRE) with 416 km also fairly closely followed by Denis Orsini (FRA) with 391 km and who is planning on running the 5000k which starts on January 16th, 3 hours after the 6 day finishes. There are 6 runners in the 6 day with the Rachel Pierce (USA) the sole female participant on 237 km.
The 5000 km race, the first billed as such, offers runners a different format from the 3,100 mile race where runners can choose to add the extra 11 km to reach the 5000 km mark. In the New York event the course closes from midnight to 6 am allowing the runners precious rest time even though the clock is still ticking. Here in Athens the format is the more traditional go-as-you-please non-stop type of event. A number of accomplished runners have entered the 5000k including Takasumi Senoo (JPN), Cleberton Souza Oliveira (BRA), Buceanu Nicolae (ROU) and Pawel Zuk (POL) and the only female entered is Huang-Lan Yang (TPE).
January 16th also sees the start of the 1000 km and 1000 mile races with Clarita de Oliveira (BRA) the only 1000 km participant. Taking on the 1000 miles is Nikos Porphyropoulos (GRE) in his first event beyond 48 hours. Mara-Alexandra Guler Cionca (ROM) is the only woman entered and has a 6 day best of 653 km set at Icarus, Florida in 2018 and will be up against Orkney's greatest multiday runner William Sichel.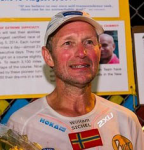 William has his sights set on the current, 1000 mile World Over 65 age-group record of 15 days 2 hours, 50 minutes, 01 second set by Russia's Vladimir Glazkov in New York in 2004.
"I'm healthy, fit and looking forward to tackling Glazkov's 16 year old record in Athens" said Sichel recently. "I'll need to average over 67 miles a day to break his record. I plan to do a mix of steady running and run/walking with short naps and a 3 hour 'long sleep' at night. This has worked well for me in the past."
William ran his last 1000 mile race at the same venue, but a different course, in 2010 setting a new Over 55 World Age-Group record of 13 days 20 hours 8 minutes 1 second. William's last outing was in Milwaukee, USA last August where he set a new World Indoor Age-Group 6 Day record of 434.82 miles.
William would like to thanks his sponsors and his support crew consisting of Alan Young, Tim Rainey and Erica Clarkson. He will be using his run to raise funds for CLAN Orkney. His just giving page can be found here: https://www.justgiving.com/fundraising/william-sichel
William is currently pursuing his record-setting project called "Journey to 750" in which he is attempting to set 750 running records at World, British and Scottish level, including age-group records. Currently he has set 732 records, including 104 world age-group records and two Guinness World Records. His shortest record is for 30 miles on the track and his longest is an overall British record for 3100 miles/5000km on the road.
Leading runners in Athens
| | | | |
| --- | --- | --- | --- |
| Pos | Name | Ctry | Km |
| Men | 24 Hour | | |
| 1 | Eduardo Cebrian Martinez de Lagos | ESP | 241 |
| 2 | Dan Välitalo | SWE | 236 |
| 3 | Vladimir Stavrev | BGR | 234 |
| | | | |
| Women | 24 Hour | | |
| 1 | Aoife Karen Mundow | IRL | 231 |
| 2 | Karin Maria Jansson | SWE | 218 |
| 3 | Marianne Mäkinen | FIN | 211 |
| | | | |
| Men | 48 Hour | | |
| 1 | Andrzej Wereszczak | POL | 385 |
| 2 | Jean-Louis Vidal | FRA | 316 |
| 3 | Fabien Schlegel | FRA | 311 |
| | | | |
| Women | 48 Hour | | |
| 1 | Stine Rex | DNK | 276 |
| 2 | Stefania Gabriela Iaciu | ROU | 268 |
| | | | |
| Men | 72 Hour – After 68 hours | | |
| 1 | Christian Borcan | ROU | 357 |
| 2 | Nikitas Nomikos | GRE | 353 |
| 3 | Sheng-Ming Wu | TWN | 311 |
| | | | |
| Men | 6 Day – After 66 hours | | |
| 1 | Athanasios Stimoniaris | GRE | 416 |
| 2 | Denis Orsini | FRA | 391 |
| 3 | Andrii Terpiak | UKR | 294 |
| | | | |
| Women | 6 Day | | |
| 1 | Rachel Pierce | USA | 237 |
| 2 | | | |
| | | | |
Links
Race website: www.dayrunners.gr
Live Results
Athens Ultramarathon Festival Facebook
www.williamsichel.co.uk