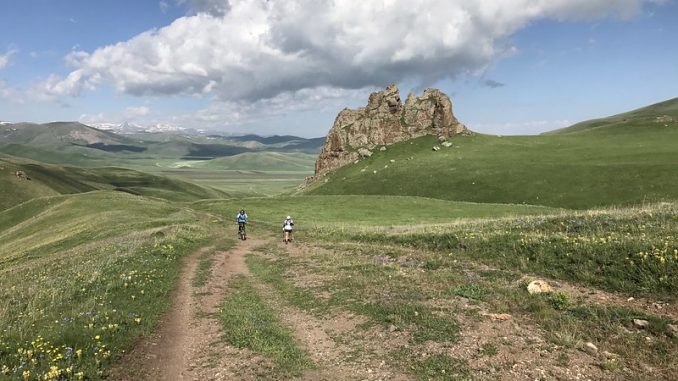 Badwater presents Artsakh Ultra, a six-day stage race through the Republic of Artsakh
AdventureCORPS® – organizers of the world-famous Badwater® ultramarathon running races in Death Valley and across the USA – will host the Artsakh Ultra 2020, a six-day, point-to-point, 160-mile (260km) trail running stage race in the Republic of Artsakh, the democratic, Christian, Armenian homeland located just east of Armenia itself. Formerly known as Nagorno-Karabakh during the Soviet era, Artsakh is a fascinating, wonderful country that few people have even heard of, and even less have visited. AdventureCORPS aims to change both of those facts by bringing runners from all over the world to compete in the Artsakh Ultra™.
The inaugural race will be held August 30 through September 4 of 2020, and will be held annually thereafter and AdventureCORPS already has plans underway to develop additional endurance sports events in Artsakh in the near future.
The Artsakh Ultra race will be held primarily on the Janapar Trail, a hiking trail network which stretches from adjacent Armenia into and across Artsakh. The route is primarily held on jeep tracks, along with single track trails, some dirt roads, and about 10 miles (16km) of paved roads.
The first stage will be 22mi / 36km; the next four stages will vary from 26 to 34 miles (42 to 55km), while the final stage will be 16mi / 26km. With a total distance of 160mi (260km), there is a cumulative total of 26,000 feet (8000m) of elevation gain along the route.
Some of the exciting landmarks along the route include the monasteries of Dadivank, Gandzasar, and Hakobvank, Zuar hot springs, the lofty peak of Kachaghakaberd, the "We Are Our Mountains" sculpture in Stepanakert, and Hunot Canyon. Towns and villages along the route include Tsar, Karvachar, Zuar, Vank, Patara, Stepanakert, and Shushi.
The final stage will begin with a festival hosted by the Artsakh government in the capital city of Stepanakert, and will conclude with a celebratory bonfire, music, food, and dinner party in the city of Shushi, known as Artsakh's cultural capital.
While the route will be incredibly beautiful and challenging, the race itself will also be a culturally immersive experience. Each day's route will pass through one or more villages, while the overnights will be in or near villages and cities. Runners will eat the local, super healthy, incredibly fresh food. They will enjoy Armenian music, dance, and culture. Along the way, the runners will visit 1000-year-old Armenian churches, monasteries, and historic sites. And while each competitor will run as part of an international field of runners, they will be embraced, surrounded, and supported by the people of Artsakh and their Armenian food, music, language, and culture.
One of the catalysts for the race is Armenian ultraunner Telma Ghazarian Altoon, who ran the entire 178-mile (286km) Janapar Trail in just two days, ten hours in June of 2017. (See video.) Her run effectively put the Janapar Trail on the map and led to a dramatic increase of support for trails by the Artsakh government and for Trails For Change NGO. Telma is a veteran of multiple Badwater races and a neighbor, friend, and ally of AdventureCORPS' Chris Kostman. Telma is a major supporter of Artsakh Ultra™ and will be on hand to support the runners during the inaugural race. (See interview.)
Chris Kostman, the race organizer – had this to share: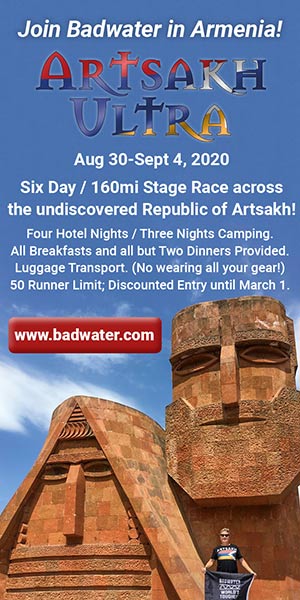 "I have never been more excited on both personal and professional levels: First, Artsakh Ultra features the hallmarks of all my AdventureCORPS events: 1) Challenging Route. 2) Beautiful Route. 3) A fantastic, off-the-beaten-track location. 4) An intimate event experience organized to world-class standards. But Artsakh Ultra goes even beyond my usual standards because of its focus on cultural immersion coupled with a close working relationship with the locals along the route and the very supportive Artsakh government. Also, as a lifelong lover of history, culture, language, and travel, it's an absolute thrill for me to merge my personal passions with my professional pursuits.
"I'm organizing Artsakh Ultra for many reasons. First, yes, to provide an awesome racing experience in an extremely unique location, but also to promote the Republic of Artsakh as a tourism destination, to spur development of eco-tourism there, and to directly support the local economy. Back in the USA, I have all of my usual, tried-and-true vendors, but for this event I want to support the local economy as much as possible. As such, in either Artsakh or Armenia, I will have our race shirts produced, our race magazine printed, our race awards manufactured, and more. I will also hire locals to support the event. And beyond that, I am also working to promote running and outdoor adventuring in Artsakh as fantastic pursuits for the local citizens. (We have very special pricing, too, for Armenian citizens who live in Armenia or Artsakh; please inquire.) Trails For Change NGO is our local charitable partner, so we will promote and support their efforts, too. Also, Artsakh Ultra is the first in a long-range plan to develop and produce several endurance sports events in Artsakh. It's an incredible country with so much to offer and I want to be at the forefront of making exciting things happen!"
Race organizer Chris Kostman hosted a Facebook Live announcement and description of the race on November 12, 2019 which can be viewed here.
Race website: www.badwater.com/event/artsakh ultra