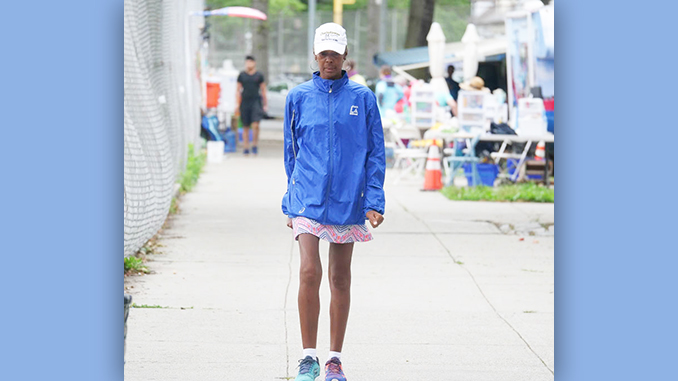 Self-Transcendence 3100 Mile Race 2017 – Daily Updates – Day 38 – Yolanda Holder
Posted on the Ultralist:
Date: Wed, 26 Jul 2017 13:31:22 -0400
From: "SteelTownRunner"
Subject: SC3100: Yolanda Holder
Yolanda Holder made it into the NY Times a few days ago. Her occasional handler mentioned in the article, Shamus Babcock, is back after running Vol State. A Diva Who Is Not Above Walking 3,100 Miles
The article describes Yolanda as a race walker, which conjures all sorts of inaccurate imagery. She does race, and she does walk, but I would describe her as a power walker.
"Unlike many runners, Ms. Holder shuns headphones, opting instead for meditation and prayer while walking." She does go without headphones, but meditation and prayer, though probably techniques most runners use at some point to get thru the race, are more generally descriptions of Sri Chinmoy disciples and others seeking some level of a spiritual journey during the race. As a regular visitor to the race, it's not how I would describe her or really any of the other athletes in their approach. It plays down the physical exertion the athletes put in and the toll the race takes.
"strode briskly but effortlessly." Like many high-level artists, musicians, etc, Yolanda's stride may *appear* effortless (try keeping up with her for a lap and you'll find it's hardly the case). It is more efficient than anything else.
==================================
Today is day 39. As of day 38 at 11:58pm, Yolanda has five consecutive days of 62 miles, with a current total of 2231.4 miles. The pace bunny, moving steadily at 59.6 mi/ day is up to 2264.8, a gap of 33.4 miles to close in 14 days including today. Yolanda must maintain an average of 62.043 miles per day (ever so slightly more than 113 laps of the course, partial laps not counted) to power through. At this pace, she should be able to 'easily' knock out a 114th lap on the final day.
For some perspective, at the close of day 36, Yolanda had averaged 6 consecutive 6 day performances with 351.2 miles (with a closed course for 36 out of every 144 hours). Race leader Vasu Duzhiy averaged nearly 400 miles in that same span (with no one to push or chase him).
==================================
Here is a nice blurb about the race from a few years ago. You'll note that multiday powerhouse Sarah Barnett did not complete the race on her first attempt. William Sichel dug himself out of a far bigger hole than Yolanda has faced, but to quote a race observer, he had three things in his favor: leg speed, experience, and ultimately, an excellent full-time crew.
Why people from around the world come to run around one New York City block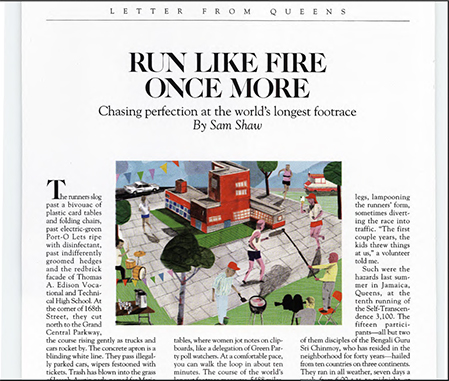 This article is worth sharing again for those who may not have seen it previously. Doing the race justice takes more than a few hours of observing and a few paragraphs of writing. Sam Shaw in 2007 wrote a feature article for Harpers that is the best article I've seen on the race. He spent several weeks observing the race, and a day walking the course. The race cutoff for the last number of years has been far tighter than it was at the time of that writing. Again, it is now 52 days, or 59.6 mi/ day.
https://harpers.org Run Like Fire Once More
-Over and out.