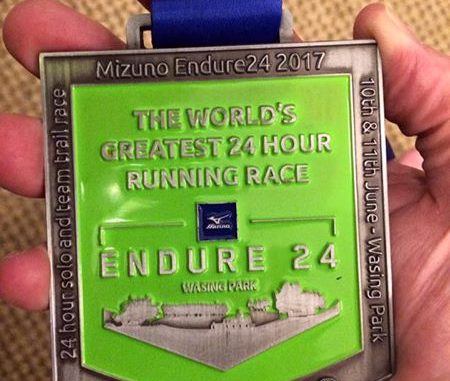 The Mizuno Endure24 Hour Reading 2017 event draws a large crowd every year and is billed as the Glastonbury for Runners. This year around 3000 runners took part in the team and solo categories. The Endure24 route is a five mile, mixed terrain trail loop based at Wasing Park, Aldermaston, RG7 4NG.
The event took place last weekend, 10th June and the results have just been posted on the website.
There were 11 categories – Solo m/f, Pairs m/f/mixed, Small teams m/f/mixed, Large teams m/f/mixed.
Though the men won the solo event, women won the pairs event.
Listed here are the top solo runners. The times suggest that those people who started a lap before the 24 hour point, were allowed to finish that lap.
| | | | | |
| --- | --- | --- | --- | --- |
| Pos | Name | Laps | Miles | Time |
| Men |  24 Hours | | | |
| 1 | Pete Croall | 24 | 120 | 23:24:57 |
| 2 | Brian Grieves | 23 | 115 | 24:42:30 |
| 3 | Matt Fowler | 22 | 110 | 23:13:51 |
| | | | | |
| Women | 24 Hours | | | |
| 1 | Kris Ryan | 23 | 115 | 24:51:30 |
| 2 | Jenni Cox | 22 | 110 | 24:49:08 |
| 3 | Jane Benson | 20 | 100 | 24:02:25 |
| | | | | |
All the results can be found at: www.frsystems.co.uk
Race website: Endure24.co.uk
Facebook: Endure24