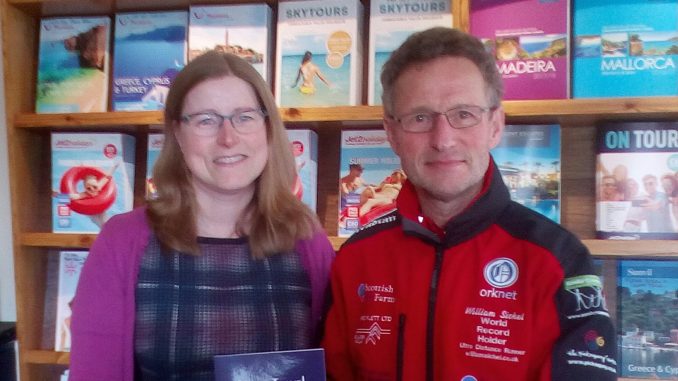 Despite an 'eventful' build up, Sichel departs for the 21st Annual Self-Transcendence 3100 Mile Race in New York
Orkney-based ultra marathon runner, William Sichel (63) leaves Orkney tomorrow, en-route to New York City in readiness for his second attempt at the Sri Chinmoy Self-Transcendence 3,100 Mile race which starts on Sunday June 18th at 11am UK time.
"It's been an eventful and stressful final build-up with my wife Elizabeth's episode of poor health and eventual hospitalisation last week. Obviously it's been difficult for both of us but everyone has rallied round and I head to New York with Elizabeth's blessing and the support of the Sanday community and medical team for which I'm very grateful."
The 21st edition of this event will, once again, take place on a half mile street circuit in Jamaica, Queens, New York from June 18th to August 8th. A small, invited field of 7 men and 4 women will start this unique event which has grown its own culture, traditon and history over the past 21 years. Currently William is the oldest person ever to have completed the event when aged 60 in 2014.
For organisational reasons the race is run a bit like a stage race with the runners and organisers having an enforced break between mid-night and 6am every day. The clock doesn't stop however and competitors must be on the start line at 6 every morning.
So in effect, the runners have 18 hours a day to cover the daily average of 60 miles required to complete the challenge within the time limit.
"That means I must cover almost 2½ marathons a day or the equivalent of 240 laps of a 400m track, every day for 52 days, just to finish inside the time limit! It's an incredible ask because if I have a bad day then I have to run further in subsequent days to complete the race."
William will be joining 10 other runners in New York seeking to complete the distance four of whom will be making their debut at the 3100 mile distance.
Sri Chinmoy was an Indian spiritual master and teacher of meditation, who established himself in New York in the 1960's and who died in 2007. The Sri Chinmoy Marathon Team organise many running events world-wide, including the Self-Transcendence 24 Hour at Tooting Bec in London.
William welcomes supportive comments via the race web site's "message runners" button or his own Facebook and Twitter feeds.
William runs to high-light the benefits of exercise for older people as well as raise money for the CLAN cancer support charity.
The "Challenge William" scheme will again run during the race and William's dedicated CLAN web page can be found here: www.justgiving.com/William-Sichel
William would like to express his gratitude to Alan Young, who is crewing for the full 52 days and to Tim Rainey and Adrian Stott who will do separate 10 day stints in July.
Main Sponsors: Alfred Flett Ltd Scottish Sea Farms JBT Distribution
Links
Race website: Self-Transcendence 3100 mile race
Facebook: www.facebook.com/WilliamSichelAthlete
Twitter: http://twitter.com/#!/williamsichel
youtube: http://www.youtube.com/user/William30179